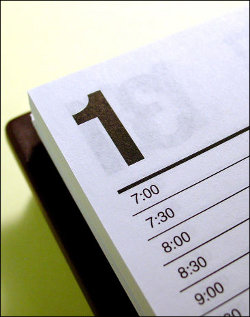 2011 wasn't as busy a year for The Juggling Writer as last year. I'm sure, in part, that starting a new job was partially to blame for only 93 entries for the year — not the 150 entries of the year before. But it was still a good year.
So not a bad year at all!
And of the entries I wrote for The Juggling Writer, here are my favorites…
My Faves
January: Be Quiet. I don't reveal much about things I'm working on because I think talking about writing spoils it for readers. There's a lot to be said for the adage, "Actions speak louder than words." There's a lot to be said for being quiet and plopping a manuscript down in somebody's lap instead of telling them all about a story that's not even written.
Honorable Mention: In Praise of Slacking Off. It can be so easy to fixate on writing — spending most waking hours thinking about it and piling up pages. This entry was written after a weekend of no writing. Surprisingly, there was no guilt; in fact, it was a great weekend that led to better writing. Sometimes it's a good idea to just slack off!
One More for the Hell of It: The entry that comes up the most in Google searches bring people to this site: How to Know if You're a Good Writer.
February: Snow Juggling. Since I cheated and shared three entries for January, here's just one for February to even it all out. Not writing related, but I am in the snow, while wearing a kilt…and juggling.
March: Dyslexic Writers Unite. In 7th and 8th grade, I was put in learning disability classes for dyslexia. I never let it get in the way of my love of reading and writing. In many ways, I owe my love of reading and writing to dyslexia. Here's why…
Honorable Mention: Moving Forward. I have yet to meet a writer who doesn't think they could do more. Whether it's promoting their writing more or producing more, we're often our own worst enemies. Here's what you can do about that.
April: 12 Tips to Prepare for a Writing Weekend. Give yourself at least one long weekend in 2012 to just hole up and write. Follow these 12 tips, and you'll get a lot done.
Honorable Mention: Where is the Big Literary E-Book Self Publisher? 2011 was quite a year for e-book self publishers. We saw strong mid-list writers walk away from half-million-dollar contracts and do it on their own. We saw no-name writers become millionaires through self publishing their work on Amazon.com. But we still haven't seen the big literary self publishing success story. I wonder if we'll see it in 2012?
May: A Writer's Politics: Does it Matter? Written in response to seeing a reader mention on Twitter that he was going to stop reading the writing of Bill Willingham because of Bill's politics. It made me wonder: does a writer's politics matter?
Honorable Mention: Book Review: Bernard DeVoto's The Hour: A Cocktail Manifesto. One of my favorite entries of the year was a book review. While DeVoto was a curmudgeon and outright wrong about more than a few things in this book, one can't but love his writing. And the last chapter of this book is simply beautiful!
June: Exciting Writing. Write what excites you…or consider not writing at all!
Honorable Mention: Writing about Writing. I work on The Juggling Writer because I want to…not because I feel I have to. By not trying to make money with this blog, I don't write just for the sake of writing in the hope of advertising impressions or clicks — I write because I genuinely enjoy what I do and because I like sharing things and seeing what people feel about the things that matter to me.
July: Google Plus for Writers. Another social network to pull at a writer's time. But…I like G+ — so much so that I wrote a little tutorial about how writers might use it.
Honorable Mention: Initial thoughts about Google Plus. From the beginning, Google Plus seemed like a place that could be cool for writers. I love that the writers I follow on G+ are able to really chat with people in ways they can't on Twitter and even Facebook.
August: The 50-Day Social Media Break. August found me logging off social media sites for 50 days. I liked the break so much, I went 101-days. Read why I decided to take a break.
Honorable Mention: Shameless Plug. I'm fortunate to know some very cool people. This entry was a shout out to some of my creative friends.
Hell Comes with Wood Paneled Doors: The first review.
September: Speak Out with Your Geek Out. Monica Valentinelli was the inspiration for taking a 101-day social media break. She also came up with Speak Out With Your Geek Out, a movement to celebrate one's geekier side. This is my entry, a love letter to juggling and my wife.
Honorable Mention: 20-Sided Ideas. Another Speak Out with your Geek Out entry — this one about Dungeons and Dragons and how it affected storytelling.
October: Evernote for Writers. An entry so cool, it deserved its own page! A video and tutorial showing writers how to use Evernote to keep all their research together. You know you want to read it — it has a zombie alien in it!
Honorable Mention: Judging a Book by Its Cover. Why book covers matter!
An Interview: Oh! October was the month that Shawn Kupfer interviewed me about Hell Comes with Wood Paneled Doors over on his blog.
November: 101 Days without Social Media. The results of going 101 days without social media. (I must admit, I liked the break so much that I've toyed with the idea of making 2012 an entire year without social media.)
Honorable Mention: Writing Terroir. What does your writing taste like? This is one of my favorite Juggling Writer entries ever!
A Glimpse at a Work in Progress: When I made a change with the novel I'm currently working on, I decided to share a little bit, here. Thanks to all those who have let me know they liked it — that means a lot to me!
December: What Do Italian Fig Cookies have to do with Writing? When people find out I can only make 4-5 of these cookies an hour, they think it's all kind of futile. At the same time, everybody who sees these cookies is impressed. What does that have to do with writing? Sometimes, the best things take time…
Honorable Mention: The Things Not Said. Often, it's the things not said that speak the loudest. Just like in the clips in the entry by comedian, Louis C.K., good writing relies not on hammering points home, but a degree of subtlety that stops a reader mid-sentence and makes them think.
2012
So that's a glimpse of some of my favorite entries from 2011. I hope everybody has a great and productive new year!