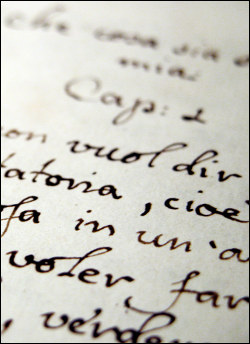 Yes, I had to triple check the headline to be sure I didn't pull the old "untie" gag.
Paul Lamb recently shared this post about being a dyslexic writer. I've corresponded with CMStewart about her problems with numbers.
I've met many dyslexic writers, and even more dyslexic creative people doing cool things.
"You Can Fix That, You Know?"
Years ago, on a road trip with a friend, the topic of dyslexia came up. My friend told me that a lot of strides had been made in dyslexia studies since my time in learning disability classes in 7th and 8th grade.
My friend told me they could fix my little dyslexic problem.
He didn't understand why I didn't want to be "fixed."
It's No Biggie, Really
There are a lot of dyslexic writers out there.
For me, because I had to put an effort into anything having to do with words, I became fascinated with words.
To this day, when I write either long handed or–especially–while typing, it takes an effort. My mind goes back to that double room on the north side of Carl Sandburg Junior High School in Mundelein, Illinois where the learning disability teachers let me loose to my own devices when they saw that I was attracted to the very thing that threw me: words.
Books Everywhere
I grew up in a house full of books. If it wasn't the books on all the shelves in the house where I grew up, it was the piles of books on the floor in my big sister's room. Since I looked up to my big sis, I wanted to mimic some of the things she did.
That meant I had to read.
A lot!
When I saw notebooks scattered about my sister's room full of her writing, I wanted to write as well…
The Best Way to Do Something…
The best way to do something is to just do it.
I know that may sound like a cop out, or easy or fluffy.
But really–that's what it took for me.
I didn't think dyslexia was bad, or that I was messed up or somehow special because words gave me problems. I knew people with much bigger issues, so it seemed like a silly thing to use as a crutch. It just took a little more effort than most to do certain things, just like when the shorter guy on the basketball team works harder than most and does more than others think they can do.
Dyslexic Writers Unite!
So…dyslexic writers–what are your experiences?
Do you think dyslexia hinders your abilities, improves the way you do things, or isn't an issue either way?
For me, most of my money is made as a technical writer. I've been fortunate to teach others how to write, and when I tell them I'm dyslexic and able to write everyday, it seems to really put them at ease.
Since the topic of dyslexia and writing pops up from time to time with me, I figured I'd ask readers of The Juggling Writer what their experiences with dyslexia and weaving words has been.
Have at it in the comments below…