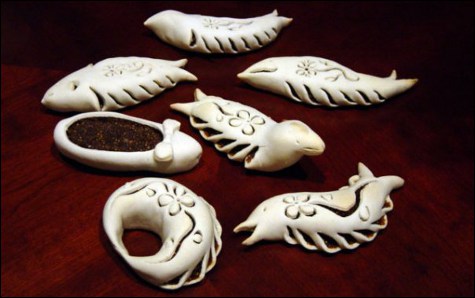 This time of the year, Italians make fig cookies.
Most fig cookies I've seen are cucidati, similar enough in shape to a Fig Newton, but with a totally different dough and frosted.
[A quick aside: there's really no comparison between Fig Newtons and Italian Fig cookies. While I've liked Fig Newtons since childhood, the filling of Italian fig cookies is an explosion of flavors that puts Fig Newtons to shame. Sorry Fig Newtons!]
The cookies we make — cosi di ficu — take a lot of time to make. While cucidati are made by rolling out the rough and wrapping it around a long cylinder of fig filling and then cutting into smaller pieces, cosi di ficu are made one by one, each cookie taking 10-15 minutes to make.
When we're done and give the cookies to friends who aren't familiar with them, they often feel guilty because they know the effort that went into making them.
A Matter of Time
I often draw parallels between things in my life and writing. When I write, I take my time. I respect those who can produce 2-6 books a year. I have it in me to crank out writing, but it doesn't feel right for me. Even if I'm writing something leaning more toward genre fiction, which has the reputation of being a speedy first draft, I take my time. It's the same thing with the fig cookies my family makes.
I love taking the time to get each cut just right, just as I love taking my time with writing. Why would I rush a first draft when it — and future drafts — can be stronger if I step back and think about things more, instead of racing to the end? I admire those who take part in NaNoWriMo, but it's not right for me. I never bought into Hemingway's sentiment that, "The first draft of anything is shit," as an excuse to just crank something out and then really start working on it.
It may work for some, but it doesn't work for me.
Taking Time to Write
I can spend the entire day working on just one juggling trick in order to perfect it; I can spend the extra time cutting cosi di ficu while thinking about where part of my family came from; I can spend time sitting back and thinking about every word that ends up on the page, even though it might be in my best interest to just bang out a first draft as fast as I can and fix things later.
But I've always enjoyed slower things.
This isn't a knock at those who write fast. Just as there's no reason to argue which is better, cucidati or cosi di ficu, there's no reason to argue the merits of genre fiction and upmarket/literary fiction over the other. I'm fortunate to have a good friend down here in Texas who makes cucidati each year. One year, he gave me more cookies than usual during our swap and I was able to let some friends try cucidati and cosi fi ficu side by side. People loved and appreciated both kinds of cookies, just as people love and appreciate different kinds of fiction.
We all find our own rhythm and move to the beat that's right for us.
In Praise of a Steady Pace
When I've thought about just plowing through a novel, I think about how it's never worked for me. I think about relatives who took their time plying their trades: art, woodworking, and even running a butcher shop. I think about my great grandmother who came over from a village in Sicily and the time she put into making fig cookies. When I think about those who came before me — just as when I think about the writers I've admired since childhood — I know the pace at which I work, steady and focused but still fast enough to get things out on time, is the right pace for me.