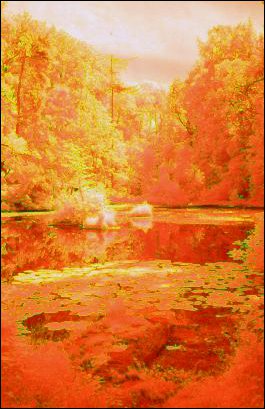 I recently shared the opening to the novel I'm currently working on, A Magic Life.
I planned to start the novel next year, but it became all I was thinking about — so I started it this month. A few chapters in, something happened: I jumped from past tense to present tense.
I've only written one thing in present tense in my entire life (well, only one work of fiction; in my day job as a tech writer, almost everything is present tense). My favorite novel
(affiliate link) is written in present tense. I've liked most novels I've read in present tense. So now I'm finally giving it a go.
Since people liked the first bit I shared, here's a little more…in present tense:
Another Snippet of A Magic Life
She lives in a world of sound and color, lulled to sleep by the growling of tigers and the trumpeting of elephants. In the morning, the squawks of large birds pull her from dreams of faraway places. By breakfast, the calls of roustabouts and singers practicing become background noise that would seem louder than thunder if everything suddenly stopped and gave way to silence. Wherever she turns, a kaleidoscope: the tent, yellow and red, taking over a field of grass as though it were spilled from a bucket. The peeling paint from the train cars gathering on the ground like brittle flakes of colorful snow. Costumes sparkle, the world blurs before her—she will never know what it is to be bored.
It doesn't stop with just sound and sight—all of June's senses join the dance. The stench of dung and damp straw bales is oddly soothing, something always there at the bottom of  it all reminding her she lives in a world of extremes. Not many children her age know the scent of pancake makeup and spirit gum. The feel of summer grass beneath her feet as dancers chase fireflies with her in the gloaming will never get old. In contrast to the soft grass and billowing fabrics all around is cold steel: tent poles, cages, and heavy tools. She's long learned that the rough wood sides of the train car she calls home leave behind splinters if she tries tracing the garish images painted on the outer walls. Finally, there are flavors: cotton candy melting on her tongue, stuffed cabbage and soups cooked by the Hungarians from the horse show, the ever-present taste of sawdust at the back of her throat.
If she lives to be 100, her mind crammed full of a lifetime of thoughts and memories waiting to be forgotten, these days will be the last to go.