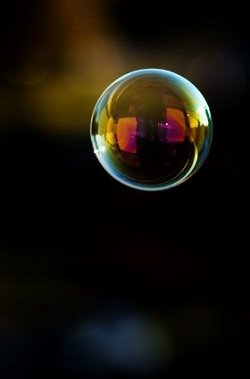 Things change.
I grew up with three major networks on television and PBS. UHF channels were like cable…that is, until cable came around.
I grew up reading books — I love books! Lately, though, most fiction and non-fiction I've purchased has been electronic, read on my iPhone with the Kindle app and Stanza.
Later today, Apple will announce a tablet that many say will revolutionize e-books. I think that's a bit much (it sounds like it will still be backlit, not electronic ink, which is easier on the eyes while reading), but it's become clear with the Kindle, the Nook, and Apple's new device: people are at least willing to consider e-books.
Digital Book World is happening as you read this. (Follow the #dbw hashtag on Twitter for a barrage of updates from the conference.) It's not a little gathering in Sioux Falls — it's an impressive gathering in New York City.
Electronic books aren't just for novels and business books, either. Terry McGraw, of McGraw-Hill let it slip that textbooks will soon be available on iPhones and the Apple tablet.
With all the e-book hype, there are those who aren't fans.
Many readers still insist that books are the only way to read.
Some publishers and agents wonder, "Where do we fit into all this?"
Many writers wonder that, too.
For decades (and perhaps longer), publishing has been able to get by on, "If it ain't broke, don't fix it!" While slow, publishing always basked in the time it took to get things on the shelves. A fan of slow things, myself, there are even reasons to like slow in publishing: you rarely see typos in novels.
But even that's changed. Many publishers sound more like enthusiastic MBAs instead of people who love books. Publishing houses don't support writers like they once did. Editors frequently change in the middle of the time it takes to get a book on the shelves, leaving the author with somebody not as enthusiastic about their story.
At the 2009 South by Southwest Festival's "New Think for Old Publishers" panel, publishers out to show they were with the times proved they weren't, and ended up asking the audience what they should do.
Change can be hard to deal with; fortunately, many publishers are finally adapting.
Realizing that many people who read want e-books, they're going to where the money is moving. Don't believe me?
Amazon.com CEO, Jeff Bezos, said that where Amazon offers a physical book and a Kindle version, the Kindle [electronic] version accounts for 48% of sales (December, 2009).
That's up from 35% in May of 2009.
Granted, you won't see buildings like this constructed to house e-books, but it's clear they are finally becoming a viable way to publish.

*          *          *
I really do love books. One of my favorite things I own is a signed copy of Carl Sandburg's The Sandburg Range. (I grew up in northern Illinois and went to Carl Sandburg Jr, High…Sandburg was kind of force fed, even if you weren't a fan. Growing up with my mother reading Rootabaga Stories to me, I was always a fan.)
We are obviously inspired by books. I think a society that builds magnificent buildings to honor books is a society filled with hope. When I look at beautiful libraries, I appreciate them for the craft and hard work that went into writing and publishing every book contained within. I love the architecture. But what I love most is what's inside the buildings and between the covers: information!
I don't care how I get information, although I'll admit that an evening reading physical books in the living room with my wife is one of my favorite things in life.
I've found I can still have a small glass of wine or scotch, still have the ambiance of the evening, and still enjoy quiet time reading with my wife even when I'm reading an e-book in the living room. (And I love being able to read with the lights out in bed while my wife falls asleep so she doesn't have to deal with the light from my bedside lamp.)
When I look at the bookcase in our living room, I see the future of publishing. (And it's a future where books still exist; it's a future where books are, perhaps, even more cherished than in recent decades.)
The bookcase in our living room is where we keep the special books: my wife's Sherlock Holmes books and her Peanuts comic strips reprints. It's where my two favorite signed books sit: the signed Sandburg Range and The Sport of Falconry. My favorite novel is on that shelf (scroll down if you click the link), and I never grow tired of reading the travel descriptions in The Gentleman's Companion. There's also an electric outlet in the built-in shelf. It's where we charge the iPhones that hold even more books than the shelves. Granted, those books are e-books, but physical or electronic, information is information.
I don't think books are going anywhere. Publishers like Subterranean Press have been publishing limited edition runs of books people reach deep into their wallets for.
I don't think anybody is going to pay hundreds for an e-book (and you can't autograph an e-book), but some publishers are already dealing in collectible books.
I  think the future of publishing is a place where hardcore readers will devour content on e-book readers and hardcore fans will still buy special-edition novels and put them on shelves. People will consume digital content, and people will still frequent old bookstores, garage sales, and antique shops, looking for out-of-print books. Authors will be able to keep their out-of-print books in circulation as e-books, and agents and publishers will still serve an important purpose, even though some people will have great success doing it all on their own with independent editors and cover artists.
The future of publishing is going to look different, but I think it will also look very familiar.
Call me an optimist, but sometimes the more that things change, the more they stay the same…