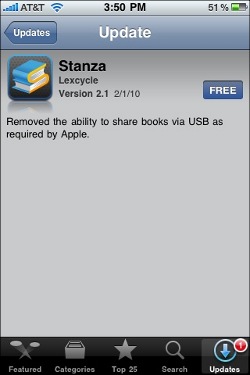 While I've spent some time touting e-books, I am not one of those people shouting, "Death to print! E-books now!"
E-books have some serious drawbacks, and the biggie to me as a writer and a reader: an inability to share.
Oh, sure–the Barnes and Noble Nook allows limited sharing with other Nook owners. And if you own a Kindle, you can download an e-book to your Kindle and one mobile device, like an iPhone. But it's nothing like being able to pass a book around to friends.
I tend to give books away. Unless it's a book that becomes dear enough to me to hold on to, when I hand somebody a book, I hope to never see it again. I don't want the clutter of a ton of books in the apartment where I live, and I want somebody to keep the book if they love it, or pass it on.
I'm the kind of reader who goes to a bookstore and buys stuff from people I've never heard of. I've found a couple of my favorite authors that way. Most of my other favorite authors, though–probably the bulk of my favorite authors–I read because somebody loaned me a book.
When a friend with similar tastes gives me a book and tells me I'm going to love it, most times I do. And…when the author's next book comes out, I buy it.
Any author who objects to somebody sharing their books with others doesn't really want to be read.
One of the things I like about e-books is the ability for me, if I choose, to spread my writing for free. If I want to release my first novel as an e-book and encourage readers to copy, share, and distribute far and wide, I like having that option.
When it comes to reading e-books on my iPhone, I tend to use the Kindle app and Stanza. When I went to check for app updates today, I was notified that the Stanza app had an update.
"Cool, wonder what new feature they've added?" I thought.
The only change with the current Stanza update is removing the ability to share e-books by a USB connection. This is mandated by Apple.
A little research online reveals that it closes access to a shared iPhone folder in the next release of the iPhone developer's kit.
Now that Apple is really jumping into e-books with the coming release of the iPad, sharing is bad.
I know this doesn't prevent me from still offering my writing for free if I want to, but it eliminates another method of sharing. Some writers want readers to copy and share their writing in any and every way possible. More than that, it shows the biggest complaint I think most people will have about e-books when e-book readers get even better: an inability to share e-books as freely as they can share physical books.
As somebody open to reading e-books, I won't pay $15 for an e-book I can't share.
As a writer, I want people to be able to share a story they bought with friends who are then more likely to buy more of my writing.
It will be interesting to see if publishers and retailers make some of the same mistakes that the music industry made when the MP3 format became popular.