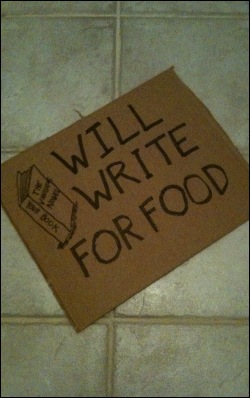 In the comments of a recent post, a member of the writing group I'm in said this about e-books becoming more common:
"I suspect it will be easier to get an audience via the e-book revolution, and harder to make a career"
– Mark Felps
I've seen things get harder when the self publishing boom of the 90s hit comic books and things got crowded. And while I see a lot of good things as e-books become more accepted, I agree with Mark that it will be harder than ever to make a career strictly writing in the future.
In the comments of that recent post, Mark goes on to talk about the "long tail." For those not familiar with the long tail, it's a retailing concept for selling things that don't have a large audience.
With music, most stores stock popular musicians, but obscure musicians often don't see rack space. That doesn't mean there's not demand for obscure bands–it just means there's not as much demand for obscure bands as there is for very popular bands.
The "long tail" is comprised of all those obscure brands. The concept is, if you can be the person being the one-stop place for the obscure bands, you can make money by focusing on a niche that larger retailers usually ignore.
The problem with the long tail as a creative individual is, unless you are the person selling all the obscure bands, you're a handful of sales out of thousands of obscure bands. In other words, while you and a thousand other obscure bands may see 25 sales each, the person organized enough to bring all the obscure bands together sells 25,000 units. (The organizer makes a living–the obscure artists in a flooded market still don't.)
You may only sell a handful of e-books without a publisher backing you, while the group compiling and handling the sales of all the obscure writers out there offering e-books sells enough to make a living.
*          *          *
Here's my dream writing job: I wake up and write for several hours. I have lunch with my wife, or meet friends for lunch. I write some more, and then run errands. After dinner, maybe I edit, maybe I write, I go for a walk, or maybe I relax. I produce books on deadline and my agent sells them and gives me money. Maybe I do book signings, here and there, but in general, I write, turn it over, and let others do what they do best so I can do what I do best (write).
I'd love a flying car and world peace, too.
*          *          *
It's easy enough to make a living as a decent-enough programmer, salesperson, or manager.
To make a living writing, you have to be your best, and even then, that best may not be enough to support yourself by strictly writing stories.
Sitting down to write, selling what you've written, and making a living with words happens to very few people who set out for the dream.
The odds are against you; the odds have always been against you.
Yet, somehow, there have always been writers who rose to the top.
I think Mark is right, it is harder than ever to make a living writing.
But each year, some writers still do it.
*          *          *
While there are writers who do make it each year, there are more who slip from the midlist each year and have to find other ways to pay the bills.
I think Mark is right: because of a coming flood of e-books, it will be harder for a writer to make a living in the future; in fact, we're already seeing it.
If you write fiction, many agents hope you can also write non-fiction so they have more to sell. Agents want writers who aren't afraid of getting up in front of people and speaking. Writers are expected to spend almost as much time selling themselves as they do writing.
It's not all bad, though.
While it may be harder than it's been to make a living just sitting in a room and writing fiction, there are more opportunities than ever for a writer willing to work hard writing fiction, non-fiction, speaking, and doing other things only limited by creativity and drive.
What do you think: do e-books and other changes in publishing make it harder or easier for a writer to earn a living?