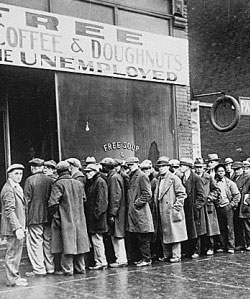 We let out a sigh of relief when "the other guys" are shown the door instead of us.
We hope the proverbial pink slip never comes our way, especially in a time when the unemployment rate is over 10% and when many of the 90% working are underemployed.
It's not a good time for a layoff.
But a layoff may not be as bad as it sounds for somebody juggling a day job and writing; in fact, it might be a blessing in disguise!
Laid Off
Most part time writers spend their days at work wishing they had more time to write.
With a layoff, you do have more time to write!
For most people, finding the next job takes priority to writing all day, but between the job hunt and interviews, there are hours each day to write.
Get your mind off of losing your job and put the time to good use doing what you used to spend all day wishing you could do all day.
Slow Down
The natural tendency after being laid off is to rush right out and find your next day job. Even if you can't afford a lag in employment, once you're done with the job hunt each day, relax and write.
Slowing down can help your writing. Take time to just sit and do nothing…because you can! Go for a walk and think about article or story ideas. Meet with friends and talk about your writing plans.
Slowing down clears the mind and is good for the body.
Getting a taste of writing without being so rushed gives you a taste of your dream.
If you're lucky and productive, your next day job may be writing from home.
Organize
Organizing the home office for the job hunt is good for your writing, too.
As you organize or prepare files in your search for a new job, also clean and reorganize your writing folders. (It's a good time to organize physical and electronic files.)
There's something refreshing about preparing for the job hunt and dedicating more time for writing. After working for years or decades at the same place, once the shock of being laid off falls to the side, most people have a sense of relief and look forward to what's next.
Organizing for the job hunt and writing is one of the most important steps in the next chapter in your life.
Research and Plan
As you research potential new jobs, also research potential writing markets.
If you write fiction, consider writing articles, Web content, or other shorter pieces that bring credits and a little money your way.
Use your time to think beyond what's right in front of you — make a plan of where you want to take your writing, even if you end up finding a new job quickly.
With a fresh start, it's a perfect time to research story ideas and plan where you want those articles and stories to take you.
Do It!
You can prepare all you want, but to make it writing, you have to put your ass in a chair and produce!
Many people, when faced with producing on their own, have a harder time than they thought they would — some people find that they aren't cut out to be full time writers. (There's nothing wrong with continuing to juggle a day job with writing if you find that structure easier.) Others find they write more than they ever believed.
The time following a layoff is a great time for writing. This is your moment…make the most of it!
*          *          *
Tomorrow I'll put my money where my mouth is and discuss how I was laid off the Thursday before Christmas, and how a layoff seven years ago was one of the best things to ever happen to me as a writer.