Yesterday, I wrote about how a layoff can be good for a part time writer. I said I would show readers that I follow my own advice.
Here it is…
Seven years ago I was laid off.
I didn't mope or panic about my situation; instead, I pitched a local travel article to the Dallas Morning News.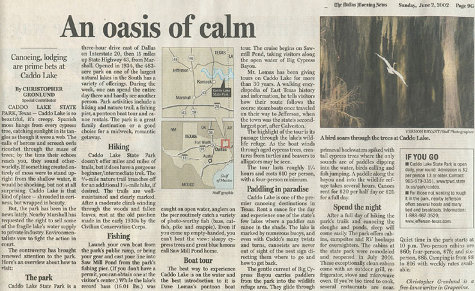 (My first travel article was about Caddo Lake State Park, in east Texas.)
I'd never written a travel piece, and I had no connections at the paper. I took the chance and sold my first travel article. I also completed my first novel in the time following that layoff.
During another layoff, I completed my first two screenplays…one of which advanced in the Austin Film Festival's "Heart of the Screenplay" competition. Both were seriously considered by two major studios.
Following layoffs, I typically get a lot of writing done and end up with a better job than the one I had before.
I really do see layoffs as a blessing in disguise.
*          *          *
I try not to make this blog about me. Sure, there are personal reflections about writing, but I try to keep those reflections universal and hope others share their stories.
I try not to write fluff, either. When making lists of suggestions, I write about what's worked for me or for other people I've talked with about writing and other creative endeavors.
I think it's important for bloggers to put up or shut up. It's easy to write lists of things to do to reach a goal, but it's much harder to follow one's own advice.
The Thursday before Christmas, I was laid off from my job of almost five years. Having a job is important for my survival: I have a large pituitary tumor that requires medical treatment or things get really bad. For the past five years, I chose to work at a job close to home that allowed a fairly flexible schedule in exchange for a lower salary, so emergency funds aren't what they should be. My wife is also looking for work — we're a no income household right now.
But I'm not fretting.
I have my plan, and writing is a big part of that plan. (So is juggling, hiking with my wife, relaxing and reading — things I enjoy).
While I need to find a new job fast, that doesn't mean that when my job hunt and research is done each morning that I won't use the time to write.
I've accepted the layoff as a fortunate misfortune, like I discussed in yesterday's post. I've slowed down, like I suggested in yesterday's post. I've researched and I'm organizing, like I discussed in yesterday's post. I already have my writing plan — I'm still on schedule to finish my current novel by late February, or early March…with this layoff, I may be able to finish it sooner. It's time to do it, and that's exactly what I'm doing.
I may end up with a job soon and not be able to get to all the things I hope to do following this layoff. But even if I start a new job in a couple weeks, I've had another taste of what it's like to write full time, and it's definitely a flavor I can get used to.
*          *          *
If you've found yourself laid off, or if you're laid off in the future — by all means — make finding your next job a priority.
But also recognize the opportunity in the change.
By taking my own advice, I started writing travel articles, finished my first novel, and finished two screenplays…all while unemployed.
I look forward to seeing what I do this time around…