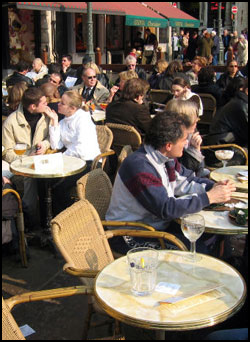 Earlier this week, I had been writing for 45 minutes before I realized that the landscapers at the apartment where I live were working right below the window where I sat. When I stopped to get some water, I heard the construction crew across the street with the jackhammer.
I knew they were there, but I was so into what I was writing that they didn't bother me.
I recently worked for a small company. The break room was rarely used, so I brought lunch to work and got an hour of writing in each day during lunch break.
One Friday afternoon as I was writing, a co-worker brought in a large stack of pizzas. It was the first Friday of the month, a day when the company I worked for brought in pizza for all employees.
I thought about going back to my desk or finding someplace else to write, but I stayed put.
I was focused on writing and decided to put my concentration to the test.
Aside from acknowledging co-workers saying hello, I stayed in the story, blocking out the commotion around me.
I wasn't always so focused; the slightest background noise used to throw me off. Now, though, when I really get into what I'm writing, the commotion around me falls away. Background noises even become soothing (with the exception of high-pitched yapping dogs).
I still prefer writing very early in the morning when things are silent, but being able to write with background distractions is a great skill to have as a writer. When you can write with distractions, you give yourself more places and times you're able to write.
Today's Writing Prompt
Go someplace very distracting…and write! Don't put on headphones and listen to music — see if you can block out everything and focus on your writing.
For somebody juggling a job and life with their writing, there are going to be distractions. Doesn't it make sense to learn to deal with them, instead of fighting them?
Tomorrow's Writing Prompt
Something I never did until last year, and it was so much fun!