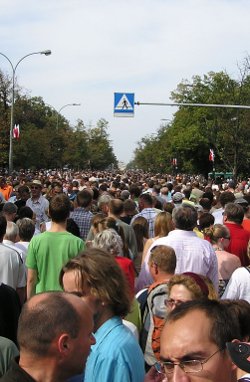 The first thing I ever wrote for submission was a comic book story for an anthology. (It was also the first thing I wrote that was accepted.)
I met my wife in 1992 when we were both working for the same independent comic book company.
Most of the people I hung out with at the time were in some way tied to independent comic books.
When independent comics became a thing and everybody seemed to be doing them, some people complained that there were too many comic books being published.
Some retailers said they had too many options and not enough time to properly pick good books. (And yet — somehow — some comic stores flourished by taking a bit more time and becoming the store known for stocking the best independent comic books. Go figure!)
Some readers seemed torn between having more choices, too. Other readers wanted obscure books their local retailer said they couldn't order (even though they could).
Some creators said there were too many books being published. I heard some creators talk about how so much competition was ruining it for them.
When my wife and I self published our own book, our initial sales were a fraction of the stuff we'd done for other publishers just before independent comic books got big. When we came to find out that our sales were considered high for a new company, we were happy. We knew with a lot of hard work, we could keep increasing our readership.
There was no doubt if we had published sooner that our sales would have been much higher. When there is more competition than ever, it is harder to get noticed. Yet, there were still creators rising above the crowds, making a living doing what they loved.
Lately, I've heard novelists talking like the independent comic book creators of the 90s. I've heard some novelists say there are just too many books being published each year.
I like that there are many books published each year — it means people are still writing and reading.
I like that I can go into a bookstore and have choices. I discovered my favorite book ever (scroll down if you follow the link) because it was one of many books in a crowded bookstore I was browsing through one evening.
(Speaking of bookstores, I wonder if the novelists who don't like competition cutting into their sales fight against Barnes and Noble and Borders for virtually destroying independent bookstores. I somehow doubt it since it's the crowded stores that typically sell more of their books.)
I understand self preservation — I really do. But to write and wish fewer books were published so that you sell more is like the oil industry hoping to prevent emerging energy technologies so they can continue going on as they always have.
When I look at the things I'm good at (juggling and writing), I never got better by being comfortable — I got better by having to rise above others doing the same thing I was doing.
The competition — the crowds — made me better.
Since I was a kid, I've wanted to support myself telling stories.
It may not happen; in part, thanks to the glut of books on the market.
I won't let that stop me from doing what I love, though.
And I know, should I ever get that big break, that I will owe my success — at least in part — to having to push myself to rise above the crowds.