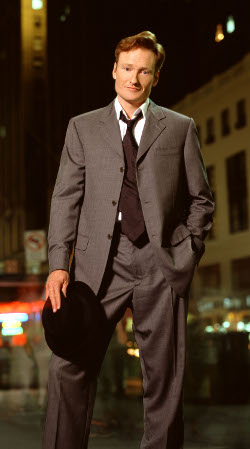 "Nobody in life gets exactly what they thought they were going to get. But if you work really hard and you're kind, amazing things will happen."
– Conan O'Brien
Last night was Conan O'Brien's final episode of The Tonight Show.
Before he was a late night TV host, Conan was a writer, working on Not Necessarily the News, Saturday Night Live and The Simpsons. (We're talking about the man who wrote the Simpsons' monorail episode!)
I think every writer can learn from Conan and his success.
10 Things Writers Can Learn from Conan O'Brien:
Work Hard
Conan grew up seeing his parents working hard. Conan worked hard, writing for TV shows. When he got the chance to host his own show, he worked even harder.
Writing's harder than most people think. On her Twitter account, author, Amy MacKinnon, recently said that writing is harder than childbirth!
More than talent, working hard and improving will take a writer far.
If you're not willing to work hard, you may want to consider another profession.
Be Funny
People like laughing, even when faced with something serious. While Conan is known for using quirky humor to get quick laughs, he's always understood the role humor can play when people are hurting.
Humorous writing can be learned.
Even if you're a serious writer, there's always a place for humor.
Be Humble
When Conan talks about how awe struck and confused he is by success, I believe he means it. Many other celebrities, when being humble, come across as rehearsed. Conan never does.
Conan isn't afraid to make fun of himself; in doing so, he can get away with humor that would come across as mean by other hosts.
In his humility, Conan doesn't make his writing about himself — he makes it about all of us, the average person in the audience who can relate to what he and his staff write about.
This is a great lesson for people writing memoirs. When many people write about themselves, they make it about, well…them! They often think their typical stories are something else, something worth writing about!
Perhaps they are, but when writing about yourself, if you're not making your stories about your audience in some way, you're just boasting. (Most likely, without having much to boast about.)
It Can Happen to You
It isn't surprising to see a cast member from Saturday Night Live or a successful comedian host a late night show, but a writer nobody knows?
Conan is tall, awkward looking, and a bit odd. He's an unlikely hero, but he made it big.
Stay humble, but always believe in yourself. Odds are, big things will never happen to most of us who write.
But it does happen, so why not believe it can happen to you?
Acknowledge your Colleagues

Conan is talented enough to make it without Max Weinberg and the rest of the band. When Andy Richter left Conan's show for his own shows, Conan still did his thing.
But Conan is at his best when he's surrounded by the people he loves, who have helped him be the best he can be.
Success doesn't happen in a vacuum; there will always be people who help us along the way.
Never forget those people, even if bigger people come along.
There will always be ups and downs. The people who knew you and helped you when you were down will be the people who are always there for you to help you back up again.
Get out There!
While Conan is very humble and even a little shy about his success, he's always put himself out there.
When he wrote for TV shows, he threw out ideas. He became known around the studio, even though he was just another writer in a group of writers.
He's put himself out there in front of the world for years; it's why we all know who he is.
It's a nice thought that one can be an incredibly talented writer in a back room and make it big. It may have worked for Thomas Pynchon, but it's probably not going to work for you.
Get out there! Attend writer's conferences and writing groups. Blog. Pitch your writing to agents and editors.
Success can't happen if you don't put your writing and yourself out there.
Be Yourself
Conan doesn't try being anything he's not: he's a geeky guy of Irish descent from the Boston area, and that's the person we all know.
I think John Irving and Robert Olmstead are about as good as it gets, but I will never write like either of them. I won't even try.
I can only write like myself. (Okay, so I once tried writing like a couple other writers I know.) When I started taking writing seriously, I broke from the advice all writers give ("You must read…a lot!"), and didn't read for years while I found my voice.
This isn't to say I'm not influenced by others, but I always strive to be myself when I write.
There is only one Conan O'Brien, one John Irving, and only one you.
Be yourself!
Surprises Happen
For years, Conan knew he would be hosting The Tonight Show.
Then, when he was finally hosting the show, he didn't even get the chance to make it to 8 months.
It's been a surprising month for Conan.
Very few writers hit it big and stay there. Even those who hit it big get surprises: agents change, editors leave, publishing companies are acquired.
Always be prepared for surprises.
It's often how we deal with change that keeps a writer going and known.
Be Different
Conan O'Brien stands out because he's different. The characters on his show, the skits he's done…all different.
If you don't believe me, I have two words for you: Masturbating Bear!
Don't be different just for the sake of being different, but if what you're doing isn't like other writers, don't be afraid to write what you want.
Different writers who make it become the writers other writers want to be.
Be Kind

Conan O'Brien has a reputation of being one of the nicest guys out there. This week, some of the biggest celebrities of our time stuck up for Conan. (It starts about 2:30 into this video.)
You don't get treated like that by being an asshole — you get treated like that by being nice.
Agents and editors don't want to work with difficult people.
Conan's advice is as basic and as true as it gets: work hard, be kind, and amazing things really can happen.
*          *           *
And if you haven't watched the Masturbating Bear clip, here's your final chance…