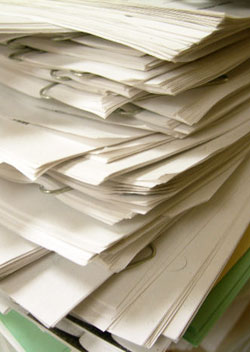 This week — Monday through Friday — I'm talking about criticism.
Monday: The Benefits of Criticism
Tuesday: 5 Ways to Handle Criticism
Yesterday: 5 Ways to Give Good Critiques
Today: Criticism — It's Not an Editor's Job
Friday: The Best Critique I Ever Received
A few of the things I've heard people say before submitting their stories or articles to editors:
"I just want somebody to tell me I suck!"
"They better not send me another form rejection letter!"
"They better tell me what I did wrong this time!"
Some writers have a strange sense of entitlement. If you can relate to any of the statements above, you may want to reconsider your attitude and approach.
It isn't an editor's job to say or do any of these things. Let's take a look why that is.
"I just want somebody to tell me I suck!"
If you think you suck, you probably do. And you shouldn't be wasting anybody's time with your suckage.
Editors are busy enough without you adding to the pile, all in the hope to be told that you aren't ready for publication. It's also not fair to the countless writers who have taken the time to not suck and have researched publications before submitting. It would make things easier for all professionals involved if you didn't add your sucky writing to the piles on editors' desks.
But you really don't want to be told you suck, do you?
It's been my experience that people who say they want to be told they suck are really building a wall before submitting – they are setting themselves up for an easier letdown. Rejection can hurt, but it's nothing personal. Rejection is part of being a writer. If you are not a confident writer – if you are just seeking validation from an editor — you have no business submitting your writing for publication.
Take the time to not suck, and when you submit your writing, submit it with confidence!
"They better not send me another form rejection letter!"
Many publications have no choice but to send form rejection letters. The pile on your average editor's desk is most likely a mountain compared to the pile of work at your day job that you think is huge. Most of the piles on editors' desks are comprised of writing that:
Isn't suitable for their publication. (Which is why they ask you to read the guidelines and read the publication before submitting.)
Isn't up to the writing standards of the publication.
It isn't an editor's job to recommend other markets (especially when you send your vampire story to Redbook), and it isn't an editor's job to tell you what kind of writing they expect to see.
Most editors love what they do. They love the industry and the writers they work with. They care about what they do, and the very nature of what they do makes good writing great. If they had time, I'm sure many editors would recommend other markets and offer hints about what can be done to break in to their publications. They simply don't have the time; hence, the form rejection letter.
Anybody who takes a form rejection letter personally needs to consider another line of work.
"They better tell me what I did wrong this time!"
No matter how much you may want to hear it, it's not an editor's job to tell you that you suck. It's not even an editor's job to tell you that you're good. It's not an editor's job to tell you what you did wrong. (You may have done nothing wrong. There are many reasons articles and stories are rejected: not right for the publication, the publication calendar is full, the publication already plans to run something similar to what you sent them.)
So what is an editor's job? Here are just a few of the things editors do.
It's an editor's job to decide if what you sent meets with the goals of their publication.
It's an editor's job to make a good story or article great.
It's an editor's job to assign new ideas for articles and stories to existing writers.
It's an editor's job to try to hold on to their sanity after reading the 10th "this is the next Harry Potter — you'll be sorry if you pass on my brilliance" pitch.
Editors are very busy people. Their list of job responsibilities is even thicker than the pile of good and bad writing on their desks. (Just so you know, editors often have to turn away good writing, too.)
It is not an editor's job to give you feedback. It might be a nice thought, but it's not their job.
But let's stop talking about the editor's job and talk about our job as writers.
It's our job to work hard and become the best writers we can be. And when we get there, it's our job to keep going for more. If you suck and expect rejection, don't waste an editor's time, or the time of the many confident writers out there more deserving of the chance than you.
If you submit your writing to editors and take their rejection or lack of detailed feedback personally, you haven't done your job.
Tomorrow: The Best Critique I Ever Received