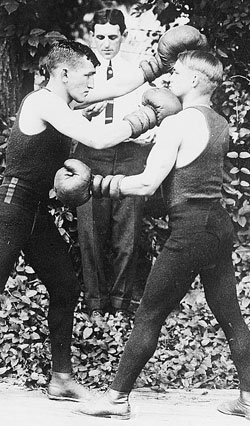 This week — Monday through Friday — I'm talking about criticism.
Yesterday: The Benefits of Criticism.
Today: 5 Ways to Handle Criticism
Wednesday: 5 Ways to Give Good Critiques
Thursday: Criticism — It's Not an Editor's Job
Friday: The Best Critique I Ever Received
Normal people don't like being told that something they put their heart into is lacking, but how you deal with criticism very well may define how far you go as a writer.
Here are 5 ways to deal with the sting of criticism:
1. Recognize the Difference Between Fact and Opinion
Learn to tell the difference between "This is what I'd do," and "This is what you need to do."Also learn when to tell when "This is what you need to do," is  legitimate criticism — not just somebody's opinion.
When you hand your writing to another person, you are giving them permission to find what is wrong in your work. Some people take that to mean they can take out their bad day on you, while others are more skilled at criticism and will offer actual feedback that will make you a better writer.
Learning to recognize a critique from somebody who knows what they are talking about — even if it's hard to hear — from somebody just spewing opinion is one of the most important skills a writer can learn.
2. Be Like the Pachyderm
Writing, or any other money-making creative endeavor, is no place for thin skins. Where creativity and commerce meet, criticism gushes forth like a broken water main. Being able to roll with the punches makes things sting instead of hurt.
Grow a thick skin, but do not become a wall. If you aren't open to listening and getting better, guess what? You won't get better!
Being able to take the tough shots with dignity and grace is the mark of a strong writer.
3. Consider the Source.
If you're still having a hard time growing a thick skin, step back and consider the source.
I was once told by a woman in the only creative writing class I ever took that I was snotty and disrespectful. For some reason, she didn't like me, and she took out her personal feelings toward me on my writing. After sitting through a series of jabs and punches from her, other people critiquing my writing told me how much they liked what I had written.
If everybody had the same opinion of my writing and me that day, I'd have been wise to reconsider many things. But it was just one person who didn't like me. To let one bit of negative feedback take away from all the positive feedback is doing a disservice to yourself and those taking the time to help you.
(Oh! The woman who hated me and my writing? She made a very good point during her tirade against me that I took to heart. Even your fiercest critics sometimes drop occasional gems of advice.)
4. Listen. No matter how much you want to defend yourself, allow the person giving you feedback the chance to speak. If necessary, make notes of points you disagree with and would like to discuss. But when the other person is talking, let them speak.
Defensive writers eventually give up; patient writers listen and learn. If you sit and listen, the first 3 ways to handle criticism will come with little effort.
5. Be Gracious. Even if you feel like you've just been torn apart, somebody took the time to read your work. You can't just hold up an essay or novel and say, "see?" like you can a painting; there is an investment of time in reading.
Many people don't have a lot of free time, so be thankful when somebody takes time out of their busy day to read and talk about something you've written.
Dogs may "smell fear," but editors can smell courtesy.
Don't be an ass — be decent and gracious.
Bonus: Follow Up.
If you make a change to your writing that somebody suggested, take a moment to let the person know what suggestions you took to heart.
Letting a trusted reader who makes you a better writer know they are appreciated makes them more likely to help you again.
A thank you card or telling them they helped goes a long way…
Tomorrow: 5 Ways to Give Good Critiques