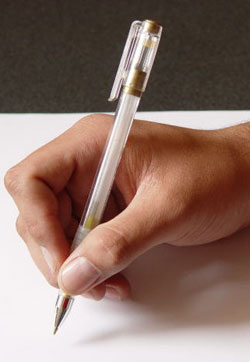 This week — Monday through Friday — I'm talking about criticism.
Monday: The Benefits of Criticism
Tuesday: 5 Ways to Handle Criticism
Today: 5 Ways to Give Good Critiques
Thursday: Criticism — It's Not an Editor's Job
Friday: The Best Critique I Ever Received
1. Take the Time. If you agree to read somebody's work and offer them feedback, you owe it to that person to take your time when reading their work. I typically read everything in my writing group at least 2 times…3 times if I received it in enough time to give me the chance to keep going over it.
You wouldn't want somebody reading your writing to skim and tell you that they found your article or story weak; don't do that to the people you're reading.
2. Separate the Writer from the Work
Don't let the writer's attitude affect your criticism of their work.
Yesterday, I mentioned a woman in a creative writing class who didn't like me. One day, I had my turn to critique her writing. I gave her a good critique, pointing out a couple things she could make stronger, but spending most of my time on the things she did right. She seemed shocked that I was so nice about her work.
Editors, agents, and other people will weed out writers with attitudes. If you find yourself in a position to provide feedback of somebody who tore you apart, be the better person and focus on their writing — not them.
3. Be Honest. Telling a bad writer that they're good to spare their feelings is like telling somebody who runs a 25-minute mile that they are fast.
Don't do it.
If somebody is asking for feedback with the intent of having their writing published, you owe it to them to be honest. Honest, constructive feedback helps new writers, and even writers who have been doing it for decades. While it may feel awkward telling somebody that they can do better, remember — you are helping them get better.
Also remember that honest doesn't mean harsh. If you can be honest and supportive in your critique of somebody's article or story, you've done your job.
4. Sandwich the Bad. If you have to point out something truly bad in somebody's work, try putting the bad news between two positive statements. It's simple, but there are a couple things to watch for.
Don't let the positive statements negate your criticism. It's easy to be excited about the good parts of an article or story and skim over the weaker parts. Sure, letting a writer know what parts of their writing was great helps them, but making weak writing strong is even more important. The stuff in the middle of a sandwich is usually what makes a sandwich good. Don't be afraid to spend time talking about what needs to be stronger.
Don't use "but…" Saying, "I loved how you did this and that, but…I didn't love how you did this," takes something away from the positive feedback. After discussing a strong point, wait a moment and then discuss what needs to be stronger.
Sandwiching the good and the bad can take some practice, but it's a great way to move through a critique.
5. Make Good Notes. One of my day job duties is technical editing. While there will always be people who see just one red mark on their writing as an affront to all they hold dear, the redder the document I hand you, the better. Even in technical documentation, I make notes about what worked for me, and why. Most of the "blood" on the pages I edit are notes — not corrections. I'm not a fan of marking something as "wrong" without telling somebody why.
When I edit something in my writing group, I make notes of what works, and what didn't work for me. I make suggestions about how to strengthen sections, and I take time out to let the guys in my writing group know what cracked me up or hit me hard and made me think. At the end of a story, I usually give detailed thoughts about the overall piece, using the back of the last page (and additional pages) if necessary.
When somebody sits before you telling you what needs to be fixed in your writing, it's sometimes hard to take or remember everything that is said. Leaving a writer with notes allows them to go back over your conversation and reflect on your critique days, weeks, or even months later.
A Final Thought. There's an art to giving writing critiques. Just like writing, there's a cadence to how you move through feedback, and how to stay focused. It may seem hard at times, but if you focus on helping another writer, it comes back.
You get what you give.
If you give honest, detailed criticism without cutting another writer down, they are more likely to do the same for you when it's your turn in the hot seat.
Tomorrow: Criticism — It's Not an Editor's Job