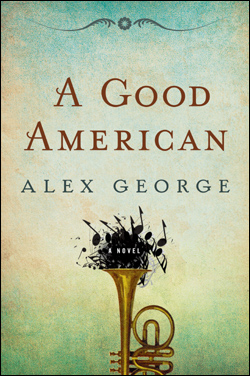 One of my most cherished memories is sitting at my great grandmother's dining room table, listening to her tell her story about coming over from Sicily to America.
Growing up in and then near Chicago, I was raised around a lot of people from different places. When I moved to Texas in my teens, I was a bit surprised to find pockets of people from different places clustered together like I saw up north.
We're a nation of people from other places — even those here before we arrived by the boatloads wandered and settled in new places. That's a whole lot of stories like the one my great grandmother told me one Sunday afternoon at a table looking out over her garden.
Alex George's A Good American
Today is the release day of Alex George's A Good American
(affiliate link). I'll refrain from discussing too much about the book, but I will tell you why I've been interested in the story: it's a different kind of American tale.
The Italian and Scandinavian sides of my family (Danish and Swedish) came in through Ellis Island. It wasn't until moving to Texas that I found out people also arrived in New Orleans, Louisiana and Galveston, Texas. Many of these people moved on to Kansas City and St. Louis.
A Good American is about a family arriving in New Orleans and settling in Missouri. But it's probably best to let Alex tell you what it's all about.
The Interview
Alex, what is A Good American is about?
A Good American tells the story of a young couple who leave northern Germany in 1904 and set sail for America, hoping for a new life there.  The novel follows the pair, and the generations that follow them, across the arc of the twentieth century.  It's about America, and what we mean when we think of home.  It's also about family, and love, and music, and food, and the secrets that we keep from those we love.
So many stories about immigrants take place in New York or other large cities. What made you decide to set A Good American in Missouri?
Exactly for that reason – so many of those stories do begin on Ellis Island.  I wanted to do something a little different.  I set the story in Missouri partly because it's where I live, but also because there feels something uniquely, unflashily American about this strange, largely empty place; it's the quintessential "flyover" State.
Did you always plan to be a writer? How did it all come about?
Much as I would like to say that I walked around with a notebook in my pocket jotting down thoughts on the human condition from an early age, it's not true.  I've always read a lot.  At some point during the mid-1990s I hit a particularly barren spell of mediocre books and began to complain to anyone who would listen about how poorly written they were.  These rants usually ended with the blithe assertion that "I could do better than that."
Eventually it was gently suggested to me that rather than go on endlessly about it, I should shut up and try.  So I did.  And I very quickly discovered a deep and profound contentment in the process – similar to the one that James Meisenheimer discovers in the novel.  I love to sit down each morning and immerse myself in the world I have concocted in my head.  Characters take on lives of their own; unexpected things happen; I find myself moved and engrossed by the adventures unraveling in these worlds I have created.  And, at the end of it all, there is the satisfaction of having made something new.  There's a wonderful Stephen Sondheim song, "Finishing the Hat," which is in part about the act of creating something out of nothing.  I love to finish hats.
A Good American opens with the wonderful line, "Always, there was music." What role does music play in the novel?
Music is hugely important to me.  I am a little obsessive about it, if I am being honest.  It is difficult to write about, because of the inherent obstacle of describing one medium in a completely different one, but that is a challenge I relish.
Music fulfils a lot of different functions in the book, but perhaps its principal purpose is to act like human glue, to bind people together.  It unites Frederick and Jette, as young lovers, in the opening pages; two generations later, it turns four squabbling brothers into a cohesive unit – a quartet.  Music is such an extraordinary way to touch people – you can't help but connect.
You're a father, a lawyer, and active in your community. When do you find time to write?
Being a lawyer can be a very time-consuming profession. Being a father – especially a single father, as I now am – even more so.  I realized early on that the only way I would find time to write every day was if I got up early to do so.  (And I do need to write every day.  I am a creature of habit.)  So I originally began getting up at six o'clock every morning and wrote for an hour before going to work.  It's a slow way of writing books, but it works for me.  These days, I get up at five.  There are no clients calling, no family commitments.  Just me and the stories in my head.  More writing gets done, but also a lot more yawning.  I have been known to fall asleep while reading to my daughter before bedtime.
What is your favorite thing about being a writer?
As Joan Didion said, "We tell each other stories in order to live."  Writing is, for me, all about forging a connection with the reader.  People seem to have responded to my story and characters, and many have been good enough to take the time to tell me so.  After so many years slaving away in solitary confinement, that is a fantastic buzz.
But the act of creation has its own profound joys, even in a vacuum.  There are moments when you read something you've written, and the thought occurs to you that you just might have come up with something half decent.  They are (for me anyway) few and far between, but my goodness, they're repay every ounce of effort you invest a hundred-fold.
What is your least favorite thing about being a writer?
As you know, writing is extraordinarily hard work.  Some people imagine that writers swan around the house, occasionally sitting down to knock off a paragraph or two of luminous prose.  People see authors give interviews and readings, and it probably all looks rather glamorous, but that is such a tiny part of what we do.  Reality is very far removed from that.  Writing books is a slog – and a long and lonely one at that.  There are some very low points, when you are mired in your story, with no apparent end in sight, when it feels all too easy to give up.  People often ask me what characteristic is most important for a writer to have.  It's not a felicitous turn of phrase, or a magical way with metaphor.  It's stamina.
Any words of advice for writers just starting out?
Read.  Read more.  Write every day. Tell the truth.  Don't be afraid.
I'd suggest everyone who wants to write should read The War of Art by Stephen Pressfield.  I also recommend The Getaway Car, an extended essay on writing by Ann Patchett – which I know you've read, Christopher.  It is an honest and illuminating account of the writing life, and full of good advice, including: forgive yourself.
A Good American has been chosen as a Barnes and Noble Discover Pick, the #1 pick for February's Indie Next List, and O Magazine's #1 "Title to Pick Up Now." Top that off with positive early reviews and a blurb from Water for Elephants author, Sara Gruen, and it has to be wonderful and a bit scary at the same time. How do you handle the expectations others have for something you've written that's met with such great early praise?
Wonderful and scary is right! I published four previous novels in England as a quintessential "midlist author", which meant that they largely passed under the radar.  With the best will in the world, publishers simply don't have the resources to promote all their titles as much as they would like.  I think that that experience – which was difficult, to put it mildly – makes me appreciate the extraordinary good fortune I have now.  But there has been no counting of chickens around these parts.  There is a world of difference between hope and expectation.  I can hope for wonderful things, but it would be foolish to expect them.  All that anyone really knows in the publishing industry, as far as I can tell, is that nobody really knows anything.  There are no guarantees.  I'll just keep my fingers crossed, and we shall see!
What are you currently working on?
Publication commitments for A Good American are taking up pretty much all of my time at the moment, but I'm well into my new book, which I am really excited about.  It's set in Maine in the 1970s.  I don't want to say too much about it at this juncture, for fear of jinxing it.  The characters are slowly emerging on to the page from the confused miasma of vague ideas in my brain, and I am enjoying getting to know them better.  It's a fun time.
An Epilogue and a Giveaway
As if February isn't a busy enough time for Alex with the release of A Good American, he's also becoming an American citizen this month!
On February 16th, art imitates life as Alex — just like two of the characters in A Good American — travels to a courthouse in Kansas City to take his oath to become an American citizen. Talk about cool timing, eh?
In honor of the release of A Good American and Alex becoming a citizen, everybody leaving a comment below, sharing some kind of tale about fitting in (it could be an immigrant tale, an anecdote about fitting in at school or a new job — anything!), will be entered in a drawing for a copy of A Good American. Sometime during the evening of February 16, I'll use random.org to select the lucky winner and notify them by email that they've won.
As for Alex becoming a citizen on the 16th, I'll go ahead and speak for more than 310 million Americans (and those who came before us) when I say we're glad to have you here!
Alex George Links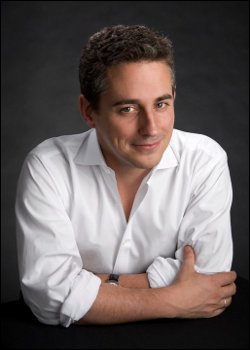 Alex's Website
Alex's Blog
Follow Alex on Good Reads
Follow Alex on Facebook
Follow Alex on Twitter
And, of course, go buy a copy of Alex's A Good American: Buy on Amazon | Buy on Barnes and Noble | Buy on IndieBound
Also, please click any of the buttons below to share this interview and help spread the word about A Good American.