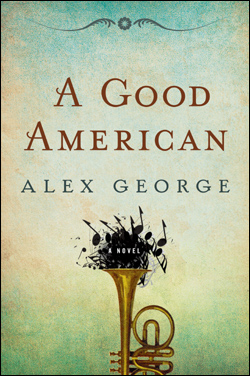 I recently interviewed Alex George about his new book, A Good American.
Maybe you've heard about the book or seen it on the shelves in bookstores. Or maybe this is the first time you've heard about it and you're wondering what it's about.
This description is straight from the author's mouth (okay, straight from his fingers on a keyboard):
"A Good American tells the story of a young couple who leave northern Germany in 1904 and set sail for America, hoping for a new life there.  The novel follows the pair, and the generations that follow them, across the arc of the twentieth century.  It's about America, and what we mean when we think of home.  It's also about family, and love, and music, and food, and the secrets that we keep from those we love."
Praise for A Good American
A Good American was chosen a a Barnes and Noble Discover Pick and the #1 pick for February's Indie Next List.
O Magazine picked it as a book to watch for in February, and Sara Gruen, author of Water for Elephants, said of A Good American:
"This lush, epic tale of one family's journey from immigrant to Good Americans had me alternately laughing and crying, but always riveted.  It's a rich, rare treat of a book, and Alex George is a first-rate talent."
I'm about half way through the novel and loving it!
How to Win a Copy
To win the extra copy I have, just go to the interview page and leave a comment about fitting in (it can be about you or somebody you know; it can be an immigrant tale or something as simple as fitting in at a new job). That's it — do that and you're entered to win!
On February 16, the day Alex George officially becomes an American citizen, a random commenter will win a copy of A Good American.