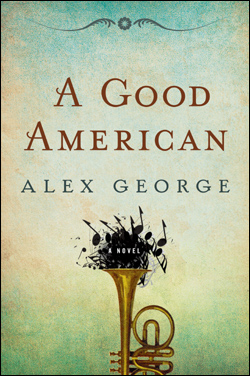 I've been following Alex George's blog for awhile, now. I always appreciate the quiet manner in which Alex talks about writing.
Okay, perhaps "quiet" isn't the right word: Alex is just a humble guy who truly appreciates those who stop by or pick up his writing.
In a time when the tone of some authors online seems to be "LOOK AT ME!!!" Alex has been quietly plodding along. Now that he has something to make noise about — the release of his first book in the states, A Good American
(affiliate link) — Alex still just does his thing — and when it comes to writing a book, he does his thing very well!
What's A Good American About?
Instead of me telling you what the book is about, this is from an interview I recently did with Alex — in his own words:
A Good American tells the story of a young couple who leave northern Germany in 1904 and set sail for America, hoping for a new life there. The novel follows the pair, and the generations that follow them, across the arc of the twentieth century. It's about America, and what we mean when we think of home. It's also about family, and love, and music, and food, and the secrets that we keep from those we love.
While George's young couple, Frederick and Jette Meisenheimer, are German, their story — and the story of their family that follows — is the same story I heard from my great grandmother who came over from Sicily. It is the same story that I still hear from people I meet today coming to America in the hope of something more.
In A Good American, George attempts — and pulls off — a shared experience by so many people in America today.
A Classic Feel
There's a classic feel to A Good American that I loved. The cadence in George's prose made me read at a slower pace, savoring the sentences and paragraphs, in the same way I'd read something like To Kill a Mockingbird.
A Good American spans several generations, and it's all done with purpose. That Frederick Meisenheimer takes being a good American seriously matters. Much of my own work ethic and appreciation for certain things was passed down from great grandparents from Italy, Sicily, Sweden, and Denmark. I remember these people dearly, faults and all, and feel a sense of duty to honor their sacrifices by coming to a new land.
Those who come after Frederick and Jette's arrival in America are who they are because of the sacrifice made by the young couple who fell for each other in Hanover, Germany, arrive in New Orleans, and settle in central Missouri.
Early in the story, the narrator — Frederick's grandson, James — mentions visiting the Louisiana Historical Society in New Orleans and reading Frederick's entry in the ledger he signed when he and Jette were cleared to stay in the states. In just a few lines, Alex George sums up the story of so many families arriving in America at the time:
And there it was: Frederick Meisenheimer, Angestellte, Clerk. Next to it, the date: June 5, 1904. Page upon page of faded signatures preceded this entry, and page upon page followed. Our story was just a single line in this vast narrative of hope. Every family had begun their journey here before spreading out in waves across the country, on the crest of their immigrant dreams.
Not Without Humor
Despite its serious subject matter, A Good American is not without its humor. Folded into the story are moments that made me smile and laugh. From a preacher who makes a cocky deal ensuring he can never again cut his hair, to the awkward fumblings of young adults noticing the other sex, George handles the humor in A Good American as he handles all other aspects of the novel: naturally!
Early on, much of the humor plays off the experience of arriving in a new country.
While Frederick and Jette's first spoken words in English are said during a serious and beautiful moment, there are some moments playing off of Frederick not speaking the native language. On a boat heading up the Mississippi from New Orleans, Frederick pays a bartender to teach him some English. The bartender's twisted sense of humor becomes apparent in this passage:
It is possible that the bartender was not entirely honest in communicating with his pupil the exact substance of what it was he was being taught. Soon Frederick's lexicon of expressions included:

Let me give you a large tip.
I like big mustaches.
My wife is a witch, you know.
I am a German idiot.
God bless the United States of America!
The Feel
Alex George was born and raised in England.
He became an American citizen last week.
I've read other stories about America written by Englishmen (comic books and novels) and sometimes it's been obvious the book was written by somebody from someplace else. (And in the case of a comic book I remember, illustrated by an Englishman…who put the steering wheel of a Cadillac convertible on the passenger side of the car!)
Despite spending most of his life in England, George has crafted a very American novel. More than that, a very Midwestern novel.
I was born in the Midwest (Chicago), and have strong ties to Kansas City and all over Missouri, where A Good American is set. When you grow up with a certain view, it's easy to think, "This is just who we are, here." As I read A Good American, I thought, "Alex got that right…and that, and that…" Then it hit me: "Of course he got that right…it's because of people like Frederick and Jette — and all the others who settled in the area — that Midwesterners have that outlook."
When you think about it,who better to tell a tale about people coming to America than somebody who's done just that?
History's Effect
In the summer of 1914, while Frederick and Jette struggled to maintain a grip on their own fragile peace, an assassin's bullet pushed Europe toward the abyss of hell.
While A Good American is a historical novel, it's not bogged down in facts and figures. While a lesser writer might have proven they researched well by dropping in facts and figures to the point of getting in the way, the research done for A Good American never steps in front of the story. Like the rest of the novel, it all flows so well that you feel you're there.
Instead of giving a history lesson at every turn, George gives the reader credit, reserving facts from the time only as they pertain to the characters. By doing so, George reminds us that history shapes us. So many of the changes in the lives of the characters in A Good American are shaped by the time.
The novel spans several generations, so history obviously plays an important role in the story. George's skill as a writer comes through in his handling of this passage of time: there is no abrupt end to one tale and start to the next.
Just like history, life goes on.
The Good Ol' Days
The story is told by Frederick's grandson, James, who comes of age during the 50s; which, for many, is considered "The Good Ol' Days."
I grew up listening to my parents talk about the time with a certain fondness; in many ways, those days really were magical. There was an innocence to the time for many people living through those years. But because my family has always been open and honest, they also shared stories about how the times weren't all milkshakes and sock hops. There were romps in backseats of cars, shamed families resulting from those romps; there was prejudice and violence.
George does a wonderful job balancing nostalgia with the way things were beneath the surface of it all. George is not afraid to tackle prejudices and nationalism. A nation's fears are addressed, and the devastating results inflicted by those who felt they were losing control echo throughout the pages of A Good American. To go into specifics is to spoil a couple scenes, so I'll just say I appreciated how George reminds us that the Good Ol' Days were good days for some, but hard times for others.
Of Tastes and Sound
While George's prose never gets in the way of itself, he can write the hell out of a scene!
Frederick Meisenheimer buys a bar, which is eventually turned into a restaurant. The act of cooking evokes something primal in a writer. George's prose comes to life in the spices used in dishes that surprise the area and in the spatter of a grill as the restaurant changes with the times. Having served my time working in restaurants and behind a grill, there are subtle things George hits that other writers may have missed. The prose is never too much; just the right flavors to be memorable.
Always, there was music.
With those four words, George begins A Good American. It is with music — an aria — that Frederick wins Jette's affections. It is with singing that his children and grandchildren find their way in life. It is with music that Frederick is welcomed to America.
Arriving in New Orleans, and with his wife not feeling well, Frederick ventures out. Sitting down to rest, Frederick hears it:
…the sound of a cornet floated through the air. This was not the sort of dry fugue that echoed through Hanover concert halls. This instrument had been unshackled: it spiraled upward, a whirlwind of graceful elision and complex melody. The music streaked into the night, every note dripping with joy. He stood up and followed the sound.
It's almost easy to take the sounds that defined a nation for granted today. But imagine hearing something so different during your first night in a new land…all those notes have to offer.
The aria Frederick sings to Jette at the beginning of the story is a pebble tossed in a pond, and the ensuing ripples the sound of a nation and the voices of the children who followed in Frederick and Jette's wake.
The Flow of it All
A Good American is like the big rivers mentioned within its pages: the Mississippi and Missouri. Large, sprawling things. From a distance, they appear to flow along at an almost lazy pace, but within that flow are currents demanding attention.
A Good American flows along like a big river; never rushed, and confident in its direction. But just like the two rivers important to the story, once you get in for a closer look, you realize that while the overall pacing seems calm, there are lines running through the story that will pull you in and take your breath away.