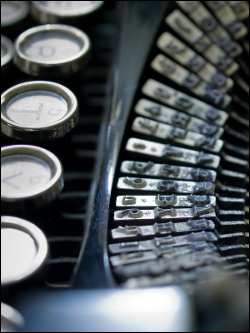 I'm lucky to be friends with some good writers, all of whom see writing a little differently.
One friend doesn't get as attached to his stories as most people I know. For him, he just sits down and produces. Like a machine. If an editor suggests changes, he's like, "Sure — whatever you want." He sneezes and I swear a new book appears!
The friend with whom I most talk about writing is in love with the act. While he would love to make it writing, if he never does — as long as he's writing — he's good. For him, it's not about fame or making money as much as it is just the pursuit of it all and the challenge that comes from writing.
Another friend recently confessed that he'll write anything for money.
"Oh, you want a book about dancing zombies?  Sure–I'll do it."
My Reason for Writing
While I loved the immediacy of writing comic book scripts and screenplays, I've grown to love writing novels even more.
I love the challenge of something so big that I can't possibly know it all before I sit down to write. I love the surprises along the way and taking time to get things at least close to how I see and hear them in my mind.
I've mentioned my second novel, a paranormal mystery set in Chicago in the late 20s. It's the first of a series. While I had fun writing it, it sits on my hard drive because…it's not totally what I want to be doing.
It may have the potential to make more than the other things I've written and what I'm currently working on — and I know there are worse things in the world than being locked into a series or writing a certain kind of story for the money. But it's not what I want to do.
My reason for writing isn't because I'm commanded by a muse or because "I have no choice but to write." I write because I want to! I enjoy the challenge that comes with telling the story I want to tell more than any other story at that moment.
Artistic Freedom
I recently read this interview with Marjane Satrapi. Her approach to creating has always been to do what she wants and finish what she starts no matter what. With that view comes a certain freedom for her. From the interview:
"…creation, you know, it means that you don't have any salary, you don't have any retirement, all of that. So if you don't have the security, at least have the freedom. I go for the freedom."

– Marjane Satrapi
Satrapi talks about creation in its rawest form: just doing it because you love it.
The Effect of Creative Freedom
I've been on an Alex George kick on the blog, lately. I like his writing because the freedom Satrapi mentions stands out in his latest book, A Good American
(affiliate link).
George wrote four novels in his native England. He stopped writing when he moved to the states and worked on some other things. Out of his contract with his old publisher, he sat down more mornings than not and wrote the book he wanted to write more than any other. He discusses all this here.
With no guarantee of publication, Alex George found the creative freedom Marjane Satrapi mentions. The result? The best book he's written (also well on its way to being the most successful book he's written). From his guest post on the 1st Books blog (after telling the story about how A Good American came to be):
"If there is a moral to this story, I suppose it is this: write the book you want you to write. The chances are that it will be far better than any other book you'll produce."

– Alex George
What is Your Reason for Writing?
Why do you write?
Is it out of love for the act of writing, or for the money? Is it in the hope of becoming famous, or something you're fine never having seen; just having written?