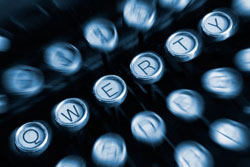 One of the most common bits of writing advice is to write every day!
But with a day job, family, and trying to find a moment to relax that's easier said than done, right?
Wrong!
10 Ways to Write Everyday
1. Write Early. Writing should become an automatic reflex. When you wake up, you should want to write — not tell yourself, "I can sleep another hour and write later."
Remind yourself before falling asleep that each day you don't write is another day you have to go to work. Make that your mantra when you wake up and consider hitting the snooze alarm.
There's an added satisfaction to writing before the day really begins: as people spill into work half-awake, you've already accomplished more than most of your co-workers will do all day.
2. A writing lunch. It's important to get away from work during lunch. The person who eats a quick bite at their desk while working only gets more work piled on them. Make your lunch break work for your sanity and writing.
Whether it's bringing a laptop to work each day and writing in the breakroom, or finding a nearby park and writing in a notebook, it's the best way to break up the day and squeeze in some precious writing time without interruption.
3. Paper lists and notes. There are writers who are able to organize everything in a PDA, but there's nothing wrong with a real paper notebook.
Use the front pages of the notebook for lists. Force yourself to cross things off, or stare at tasks you haven't done. It's easy to not turn on a PDA, but if you also use your notebook for notes and ideas, you force yourself to see what to-do items you've done and haven't done each day.
4. Setting a schedule. It doesn't matter if you write when you wake up, during lunch, or after dinner — writers who stick to a schedule are writers with piles of work.
Be realistic when setting a schedule. If you can only find half an hour of peace in your day, that's still enough time to finish a manuscript page. Do that everyday for a year and you have a completed novel.
All you need is to schedule the time.
5. Setting rules. You've set a schedule — now set some rules.
Set rules for yourself: no e-mail, close your Web browser (if you have to research, do it after reaching your writing goals), and turn off the phone. Let family know you need to focus for your scheduled time, or write at a library if there are too many distractions at home.
The rules you set lead to good writing habits. Good writing habits lead to piles of writing.
6. Remember loved ones. If you expect family to respect your writing schedule and rules, you need to respect their needs as well. Living with a writer can be lonely — especially living with a writer with a day job.
Time after work is often the only time family has with you. There are worse things in life than being loved. If you have a hard time balancing writing time with family, write during lunch or wake up an hour earlier.
6. Shut up! It's easier to talk about writing than actually sitting down to write. Try not to discuss your stories or articles in detail. Once a plot or idea is revealed, it's easier to not sit down and write.
It's much more satisfying handing a completed manuscript to a trusted reader than talking about something you'll never finish.
8. Exercise. Sitting in front of a keyboard or a notebook for hours isn't going to do wonders for your waistline. When lost in ideas, it's easy to spend all your freetime sitting down. It can be a bad trap to fall into, leading to weight gain and poor health over time.
If you haven't seen the sun for weeks, it's time to get reacquainted with that bright thing in the sky. Exercise for the sake of exercise can be a chore for most people, though. There's an easy work-around, however. Remember when you were younger and you played outside?
Try looking at exercise as play: get out and ride a bike, play a sport you enjoy, or just go for a walk. (Walking is a great time to think of new ideas or work through problems in your head.) Your body — and your writing — will thank you.
9. Write when you don't want to write. After toiling at the day job all day, it can sometimes be difficult to write. If your ultimate goal is to one day make a living as a fulltime writer, you're going to have to learn how to write when you don't want to write. There's no time to wait for the mood or inspiration to hit. Fulltime writers write whether they want to or not…or the bills aren't paid.
For all the schedules you set and pages you write, there will still be times it doesn't seem to come together the way you'd hoped. During those times — perhaps more than ever — it's important to keep writing.
Keeping busy sets serious writers apart from the dabblers. More times than not, if you just keep writing, you'll find the sections of articles or stories that gave you problems aren't so bad after all; in fact, you may forget what gave you problems in the first place!
10. Have fun! Writing is not something you have to do. It may be a compulsion, but nobody's putting a gun to your head.
Write because you want to. Treat it seriously, learn how the business side of things works, and you have a shot at making writing your day job. But there are jobs offering much better odds if all you're after is money.
There's a sense of satisfaction when an article is accepted, a client tells you how much they appreciate your content, or when you realize how long it takes to finally print that novel you've worked on all year.
Make writing fun and you'll always be satisfied.