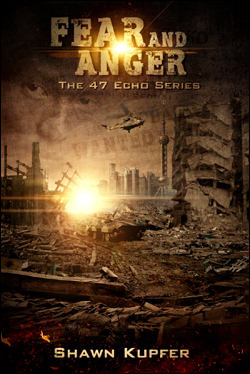 When we last left Shawn Kupfer, he was going Supercritical. These days, he's still writing the 47 Echo series, with a big change in the way it's being published (spoiler alert, but not really: he started his own electronic press). He's also added a weekly podcast to his already busy schedule of blogging.
This time around, the talk is about his third book in the 47 Echo series, Fear and Anger, and what it's like making the leap to being a publisher of other people's writing. So here we go…
For those who haven't read the first interview I did with you, please tell us who you are and what you do…
I'm Shawn Kupfer, and I write things. During the day, I write content for a Fortune 50 company. At night and on the weekends, I write about time travel, alternate universes, future wars, and snack cakes.
Fear and Anger is your latest book — What is Fear and Anger about?
Fear and Anger — the third book in the 47 Echo series — follows two friends as they try to stay alive in the midst of a war in Asia. Nick Morrow is trapped deep behind enemy lines, alone, abandoned by his government, and he's trying every trick in the book to get out. His best friend, Christopher Lee, wants nothing more than to go back in and help his friend, but he instead has to step into Nick's shoes and command their convict unit, 47 Echo. Snack cakes are not mentioned.
You've taken on a new role with Fear and Anger — you're not only the writer, but also the publisher. Why the decision to become a publisher?
There were a lot of reasons, but the main one is this: I like sharing cool stuff with people. It's like finding a new band, then immediately rushing to the Internet to tell everyone you know, "You have to check this out, it's so goddamn cool you'll shit yourself!" I like finding new voices, authors who can't get their stories seen in the traditional manner, and releasing those to the world.
As a publisher, what are you looking for?
Almost anything with a good story, engaging characters — something where the writer wants to take all of us on a journey. Pretty much the only thing we're not looking for is romance and erotica, not because we don't believe there's value in those genres, but simply because we admit we don't know how to read for them.
During the last interview, I asked you the best thing about being a writer. This time: what's the best thing about being a publisher?
It's what I mentioned above — being able to find that awesome, cool story that people might not have seen otherwise, knocking the dirt off of it, and saying "here, look at this!"
What's the worst thing about being a publisher?
Spreadsheets, contracts, paperwork — all the administrative stuff that goes along with being a publisher. It hasn't bothered me too much, though, as my day jobs have gotten me well used to office work over the last decade or more.
Back to Fear and Anger…I love the the dual storylines between Nick and Christopher. How did you handle keeping things their own stories, but still serving the overall storylines and themes of all three books so far in the series?
There wasn't a lot of plotting, a lot of flow charts to make sure I was in the right place. I basically thought about Nick's story, then Christopher's story, then wrote them each a chapter at a time. The order in which they're in the book is the order in which I wrote them — I found it fun to switch off between their perspectives and give them some parallel experiences. As far as serving the overall series, I have a map in my head where it goes, and it's been pretty easy not to go off the map — I know how and where it ends, and I know the larger points of how we're getting there.
Let's pretend this is a job interview for a moment. Shawn…where do you see yourself in five years?
/straightens tie, clears throat uncomfortably…
Well, sir, I hope to be doing much the same as what I'm doing right now. Writing books, publishing books I believe in. I just hope to be doing more of it. Also, do you offer comprehensive health and dental? I forgot to ask that earlier. And is it cool if I bring my dogs to work?
Where do you find your inspiration these days?
A lot of times, inspiration will strike while I'm in the car, usually on the work commute. I'll be sitting in traffic and think, "hmm. That would be an interesting way to tackle time travel. Haunted snack cakes solve every plot hole." Then, by the time I get where I'm going, I have a rough idea of what I'm going to write.
Off the wall question: If you could have one super power, what would it be…and why?
I'd take the ability to slow down time at will for everyone but me. Say you're in a fight, and you can slow down to half-speed while you're still moving at your regular speed. You'd win easily, no matter the opponent. You could, without too much training, walk on to an NFL team and be the best running back in the history of the game. Also, you could totally sleep in every morning, which is the best part.
What are you working on now?
I'm currently in the process of announcing Christopher Gronlund's Old Man for pre-order on Eddington Press, as well as writing the fourth book in the 47 Echo series and the first book in the Braneworlds series.
Anything else you'd like to say before wrapping this up?
Snack cakes are the perfect gift to tell someone you appreciate them. Bring snack cakes.
Thanks for your time, Shawn.
/throws smoke bomb to the floor and disappears. As the smoke clears, a faint "No…thank you!" is heard, followed by the sound of wind…
The Details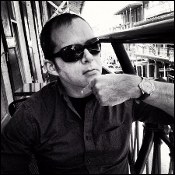 Pick up Fear and Anger on the Kindle, Nook, or buy direct from Eddington Press.
Check out Shawn's several-times-a-week musings about whatever falls into his brain on his blog. Listen to him talk weekly on the Men in Gorilla Suits podcast. If that's not enough, follow him on Twitter or Facebook. And there's always the Twitter Novel Project.