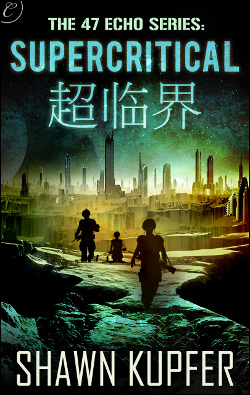 I've interviewed Shawn Kupfer before, asking questions about the first book in his near-future series, 47 Echo — and a bit about his writing process.
This time around, we're talking about Supercritical, the latest book in his series. No bloated intro, here…let's get straight to the interview!
The Interview
Welcome back, Shawn! First up, the obvious: what's Supercritical about?
In the broadest strokes, it's about the team dealing with the aftermath of a horrible enemy strike. They're tasked with going deep into China to try and shut down the People's Liberation Army defense network, but of course they're sent in with inadequate equipment and not much in the way of a plan or support. It's also about Nick dealing with the fact that he's not in control, no matter how much everyone expects him to be.
One of the things I liked about the first book of the series, 47 Echo, is that the main character, Nick, is just a good guy. His friendship with Christopher and the way he deals with things ranked up there with the action for me. Can readers expect more of that in Supercritical?
Oh, sure. Readers might even find that his friendship is explored further, and that even when he has to make tough decisions to protect his friends, he does it. He and his crew are in even more danger this time around (though I suppose it wouldn't make for much of a sequel if it was about them all sitting around on vacation), and Nick's personality, more than his training, is what carries them through.
What else can readers expect from Supercritical?
Hopefully, they can expect a decent read. There's more action, more interplay between the characters. There's more development for the main characters — not their pasts, which are becoming increasingly less important to them and those around them — but who they're becoming thanks to the war. For some characters, it's a positive change, but for others… well, not so much.
A two-part question. Ray Bradbury died last week. He's known as a sci-fi writer, but claims to have only written one sci-fi novel in his time. First: did Bradbury have an effect on you? (If yes, in what way?) Second: do you see the 47 Echo series as sci-fi, or something else?
Oh, yes. Bradbury was one of those guys I read when I was really young — in the third grade, we were assigned Fahrenheit 451, and the first student who finished it got a copy of the book the teacher bought with her own money. I still have that book. Bradbury, to me, was an introduction to a whole universe I'd never thought of — a character-driven universe where amazing things could happen, but where we experienced them through the eyes of someone we learned to care about.
When I have to describe what I write to someone, I often say, "oh, you know, sci-fi," but I'm not entirely sure that's true. It's an easy label to slap on there for conversational purposes, but really, it's only a few years in the future now, and it's not really that farfetched in terms of technology or the world in which it takes place. I remember a movement to re-term "SF" as "speculative fiction," which I think is probably more accurate in my case. Of course, *most* fiction is speculative, as writers pretty much ask themselves "what if?" all the time, so… oh, you know. Sci-fi.
You went to some of your tougher critics of 47 Echo and asked them to be beta readers for Supercritical, didn't you? Why did you do that, and what did you gain by taking that risk?
I did, and it was never a tough decision for me. I figured if I could get some people who disliked the first book to not hate the second, I was doing something right. Also, those people were going to be more apt to find mistakes in that early draft of the manuscript, as they're looking for something to nitpick. And not one of them was going to spare my feelings if something didn't work — and if something didn't work, I definitely needed to know about it. It worked out pretty well, I think, and most of the feedback I got was useful and surprisingly positive.
The second book in a series scares a lot of writers, especially when their first book did well. Were you nervous when it came time to write Supercritical, or did it just flow?
I think I re-wrote the opening chapter about eight times before I got going. I knew the story I wanted to tell, ultimately, but finding an entry point back into that world was tougher than I thought it might be. I had plenty of notes — piles of them — but getting started was the hardest part. Once I came up with an opening I liked, though, everything else just kind of came together from there. I'd have nights where I'd write upwards of 7000 words once I really got going on it.
What advice would you give to somebody about to tackle their first series?
What really helped me, anyway, was getting out of my own way. Don't be in such a hurry to get everything down on paper before you know what's going on. Take time to think, to let ideas congeal. Let your characters help you navigate through the world… if you're on your second or third book, you should have a pretty good idea who they are as people. Let them be those people, and let them react to the obstacles you put in front of them in their own way. They might surprise you.
If you could go back and correct your biggest stumble along the way as a writer, what would it be?
If I had a time machine, I'd go back to about 2003 or so and make myself pick up the damned pen again. There was a period of several years there where I didn't get anything finished, and I have the feeling it was because I got in my own way too much. I'd give myself similar advice to the stuff I just said above, but I'd probably do it more violently (25-year-old me didn't listen unless you beat the information into him).
You're published by Carina Press, a digital-first publisher. Since the publication of 47 Echo, several larger publishing houses have started e-book branches. There was a time writers didn't feel like they "made it" until they held a copy of their book in their hands. Do you feel that's changing with the popularity of digital books?
I would hope so. There's something cool about having a paper copy to hold in front of you, like a dead goat warding off evil spirits, but it's so unnecessary these days. The book is the book, whether it's printed on paper, compressed into a file on your ereader, read by a narrator, or shouted at you from a street corner by a hobo. The manner of delivery isn't so important anymore — what's important is the story.
What benefits come from working with Carina Press vs. doing it yourself?
Had I done it myself, I don't think I ever would have hooked up with an editor as awesome as Rhonda Helms, my Carina editor. She makes me look like I can actually write, for which I'm thankful. Also, Carina takes a lot of the roadblocks out of authors' ways — cover design, ebook formatting, audiobook deals, some marketing, advance review copies — and lets us focus more on creating the stories rather than dealing too much with the business side of it.
Like 47 Echo, Supercritical is also available as an audio book. What's it like hearing somebody else read your work aloud?
The guy they've gotten to do both of them is a gentleman named Victor Bevine, and he's outstanding. He's an extremely entertaining performer, but more than that — when I listen to him reading Supercritical or 47 Echo, I think to myself, "yes. He gets it." It's pretty great hearing something you've only heard in your head read aloud by someone who's obviously great at what he does.
What else have you been working on outside of the 47 Echo world?
There are several projects out there I'm working on — my pal Shirin Dubbin and I are working on a series together that's definitely more sci-fi than the 47 Echo series, and I'm working on a few books that have no sci-fi elements to them whatsoever. And there's always the Twitter Novel Project, which may steamroll on even after I'm dead. My corpse might rise from the grave just to find an open Wi-Fi connection and keep tweeting.
Off-the-wall question: you're given a golden ticket entitling you to have dinner with any writer from any time. Who do you dine with, and what do you order?
See, that does depend on if I go back to the writer's time, or if I bring him forward to the future, or if we go to some neutral time in between. Of any of them, it's going to be Christopher Marlowe — his Doctor Faustus taught me about flawed characters at a very young age. And if I could, I'd bring him into the future and take him out for Thai food. Because, come on, man, Thai food is awesome, and I could have a Facebook album titled "Pad Thai with Marlowe."
Back to the series: how far along are you with the third book?
Either 5/7 or 5/8 the way through, depending on how long it decides it wants to be. More accurately, I crawled over the 50,000 word mark a couple of days ago.
What can you tell us about it?
Without giving too much away about the plot of books two and three, it's no loner just told from Nick's point of view. Christopher Lee takes us on about half the journey, as well. There's more of Nick trying to figure out who he is anymore, and Christopher trying to discover what his place is outside of Nick's shadow.
Anything else you'd like people to know about Supercritical or the series?
Mostly that they're a lot of fun, and people should buy several copies for themselves and those they love. 😉 Really, though, I just want them to know that as long as they keep reading them, there will be something in the chamber, ready to continue the story of that universe in some way.
Anything you would have loved chatting about that I didn't ask?
Well, we could geek out forever about The Avengers, or Prometheus… but nah. I think I've taken up enough of everyone's day. Thanks so much for having me!
Anytime, Shawn!
* * *
If you liked this interview, you'll love Shawn's guest post over on Carina Press' site today. A great glimpse into his process and how other writers helped him organize all the random thoughts that became Supercritical. You can even see a distant shot of Shawn's idea board.

The Details
Pick up Supercritical on the Kindle, here, or get it on the Nook right here. Want to listen, instead? It's on Audible.com, too. More info about Supercritical, here.
Pick up 47 Echo on the Kindle, here, or get it on the Nook right here. Want to listen, instead? It's on Audible.com, too. More info about 47 Echo, here.

Check out almost daily musings about writing and many other things on Shawn's blog, or follow him on Twitter or Facebook. Oh, and don't forget the Twitter Novel Project.