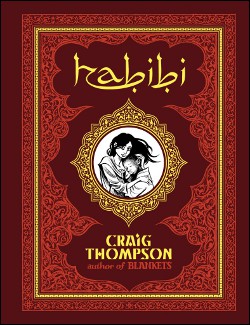 Graphic novels are one of my favorite things in the world. Words combined with pictures — and all that happens in between the panels — is an amazing thing.
Some days I'm not sure there's a more perfect medium.
Fairly recently, I reviewed Craig Thompson's Habibi, which — to me — is the perfect graphic novel.
Scott recently won a Pacific Northwest Booksellers Association award, which is usually reserved for novelists. With the win came this essay by Thompson, praising his love of books. Near the end of the essay, Thompson sums up what I love about great books in a way I've always known, but never thought to put into words or examine that deeply.
What's in an Ending?
It's often the ending of a good book that leaves me sitting on the couch with a head flooded with thoughts long after finishing the last words and closing the book. Everything comes together, and I can't stop thinking about what I've just read.
As a writer, sometimes I don't know the ending when I start, but I know it when it finally happens. I do all I can to make sure people feel something when they reach the end of something I've written. It may take rewriting an ending many times — sometimes even shifting scenes around — before it's just right. To me, the effort is worth it because the ending is the most important part of the story.
In his essay, regarding endings, Thompson says this:
"Endings are the hardest part, because endings don't exist in real life. Certainly not in history. Death is an end of sorts, but not really . . . So ending a book means finding the right moment to pull away, to let go of an author's parental control, and hand the baton to the reader. Because that's where the story lives: in the relationship the reader continues with the characters after all the words are used up."

– Craig Thompson
I mentioned yesterday that I write because I want to — I enjoy the act and the challenge that comes with it. But I'd be lying if I said I only write for myself.
I've always written with an audience in mind.
Here's to the Ending
Maybe others aren't as floored by what Thompson said about endings as I am; perhaps I should probably think about writing more than I do.
I've always written with an audience in mind, but I never realized the responsibility and trust that comes with deciding when to pull away.
While I'm the person writing the story, it ultimately belongs to the reader in the end.
While the book may be closed (or the e-reader turned off), if we do our jobs well, the stories we tell live on forever in those who've committed their time to have a relationship with our words.