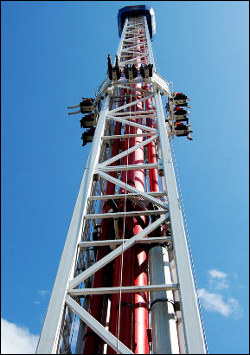 I like speaking before groups of people even though it terrifies me. I've written about my first experience as a street performing juggler before (and the fears I overcame to finally go before hundreds of people and do my thing).
When I train people at work, it's never bothered me; it's just when I become the center of attention and people depend on me to entertain or share something with them that I get that bit of stage fright that makes me think, "Will this be the time I finally vomit before a group or pass out before them?"
Maybe my shaking hand isn't really prominent in this video, but I came very close to staying seated and not telling a story that night.
Something new happened when I recently gave a presentation about managing sequential content online to a WordPress group at the Art Institute in Dallas: I wasn't terrified!
Battling Nerves
Make no mistake, I was nervous, but the only time during the hour-long presentation that I thought, "I'm gonna pass out!" was when I thought about how I wasn't as nervous as I usually am when speaking to a large group of people. I became nervous because I wasn't nervous!
And then I thought about how I was half an hour in and it would be silly to become flustered because I was sharing something I'm passionate about with people who really appreciated the presentation I put together.
Roller Coasters
When I was younger, I was terrified of roller coasters.
I took risks all the time doing things that could result in death (and that definitely resulted in injuries leaving scars I carry to this day), but the thought of getting on a roller coaster made me want to vomit. I chickened out when friends rode coasters at amusement parks; I made up excuses why I couldn't ride.
Then one day a friend and his parents got me on my first coaster. (Warning: there's a lot of swearing in this video, so it's not safe for work.)
I loved it!
I loved roller coasters!
But every time I rode a new coaster, those fears creeped back in.
I'd watch people coming off as I waited in line, focusing on the people who didn't seem to have as much fun. I considered turning back and leaving the line. When I got in the coaster car and secured the harness, I considered telling an attendant that I was recovering from an illness and needed to get off.
But the following rush was always great. Just like when I speak before a group, or when I write something new and release it into the wild.
The Excitement of Fear
I think I'd worry if I wasn't at least a little nervous when starting a new writing project or getting up and talking to other people about writing.
I've long realized that it's not the fear of being in front of others like many people have (I don't mind being before large groups of people), but rather, wondering if what I'm sharing is worth it to the people giving up their time to read what I've written or listen to me speak.
I remember riding another roller coaster in the amusement park I used to visit as a kid. In line, there was a woman who was almost sobbing before her first ride. I told her how terrified I was of The Tidal Wave and all the other coasters in the park…but how I came to love them all. By chatting with her, she became more focused on the stories my friends and I shared with her–she stopped thinking about how terrified she was of the ride.
Like me, she loved the ride when it was all over; she wanted to go again.
Scary Things
I've always thought that it's very important to do things that scare us a bit.
Maybe not terrify us, but when you do something scary and push yourself a bit, you find out that doing a bit more isn't so difficult.
Over time, it becomes habit.
I hope everybody reading this does something that scares and excites them a little bit.
Whether it's something  at work or something with your writing, it's the best way to remind yourself that you can do things you thought you could never do.