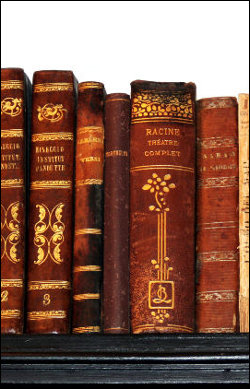 I've written about it before — there's no denying that e-books are on the rise.
I've also written about why I believe there will always be books.
Here's why…
Meet John Picacio
I have a friend who illustrates book covers. While he's concerned about the trend of some publishers not going all out for many e-book covers, things change. Already, we've made the leap from the black and white screen of the Kindle to slick color on the iPad. I can only imagine e-book technology will keep getting better and that there will still be a need for great covers like John paints. (Check out a glimpse of John's process, here.)
I know I'm not the only one who doesn't mind paying a little bit more for something that feels like the whole package. Even if it's an e-book, I like a professional cover.
John's done covers for special editions of books at Subterannean Press and other publishers. I believe publishers that think like Subterannean will always publish books — because the books they publish are a lot more than your typical book.
Publishers know there will always be that big handful of die-hard book lovers who are willing to pay a lot of money for a special book — whether it's a first printing or a limited edition.
Cory Doctorow's With a Little Help
This evening, I read a blog entry by a die-hard fan of many different things named Hal Stern.
Look at the entry and tell me that there aren't people who will always love books and I'll call you a fool.
To say the author, the printer, and the collector are all fixated on the little things that make a book special is an understatement.
While the book may not be your kind of thing, look at all the little details in the way the book was wrapped and boxed for shipping.
That's a labor of love from every angle.
That kind of love for a physical book will never die…
The Crystal Ball

While paperbacks may go the way of the dinosaurs one day, books will always be there; they will continue being special things some people are willing to work many hours to afford and add to their collections.
I have books I'd fight for. Seriously, if somebody tried taking them from me, they'd be in a world of hurt!
What about you — do you have books you can't imagine ever giving up? What are they?
And the big question: will you always buy books?
I know I will, and I'm not the only one…