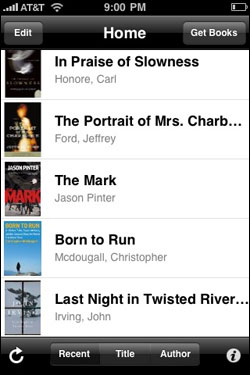 In August, 3 million people read ebooks on their iPhones.
A school library in Massachusetts went digital.
Amazon, Barnes and Noble, Sony, and other companies are investing more in ebook readers.
It looks like ebooks are finally becoming accepted.
I've been buying more ebooks than regular books, lately.
At first, it was non-fiction. I vowed to never read fiction on my iPod Touch or iPhone, but I gave in and read Jeffrey Ford's The Portrait of Mrs. Charbuque on the iPhone Kindle app. My wife is on an ebooks kick, lately — finally catching up on a pile of classics she's wanted to read forever.
Does this mean we are done with regular books?
Of course not!
My wife loves The Complete Peanuts books, and the Annotated Sherlock Holmes books. I'd love to find a hardback copy of my favorite book. We like books.
I think there's room for ebooks and regular books.
Even if there comes a day when ebooks are the norm, I don't see physical books going anywhere. Subterranean Press and Golden Gryphon Press specialize in limited, special edition printings. Some readers will always love the sound and feel of a book in their hands, even if it's just a paperback. And you don't have to turn a book off during the first and last 10 – 15 minutes of a flight.
What do you think will happen as ebooks become more acceptable? Do you think they will never become the norm? If you think they will become the norm, what do you think will happen with books?
Discuss it below…