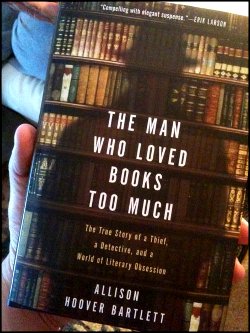 I've been meaning to write a review about Allison Hoover Bartlett's The Man Who Loved Books Too Much for awhile, now.
The book was given to me as a Christmas gift; it was one of my favorite gifts received last December.
The Man Who Loved Books Too Much is the true story of John Gilkey, a thief of rare books, and Ken Sanders, a rare bookseller turned detective out to stop Gilkey and his obsession. The reporting is honest and thorough; the author presents the facts and leaves the reader to decide just how bad a man John Gilkey is.
For me, this is where the book gets very interesting. I would never steal a rare book, but I think there is a little bit of Gilkey in many book lovers. Put me near first edition Vonneguts, first editions of the books that made me want to write, or first editions of the books read to me as a child and and I'd feel their pull.
John Gilkey is your average guy who believes he was destined for greater things. You know that guy who says life didn't deal him a fair hand? That's John Gilkey.
Unable to attain those greater things, he begins stealing books. While Gilkey's main reason for stealing books stems from a love of reading and obsessive character qualities, he has other reasons for becoming a thief. Gilkey hopes to amass a collection that will brand him as an erudite individual with social standing–because, obviously, to have such a wonderful collection, one must have things going for him!
On his trail is Ken Sanders, a quiet man who sells rare books. While my initial description of the book may have you thinking it's a cat-and-mouse chase story like Catch Me if You Can, The Man Who Loved Books Too Much is never hurried, yet I couldn't stop turning the pages.
"Some pay for their success with soaring blood pressure or dissolved marriages. He paid with jail time."
– Allison Hoover Bartlett, from The Man Who Loved Books Too Much
What I loved most: The Man Who Loved Books Too Much is a book about what makes obsessive people tick. Allison Hoover Bartlett opens the back of John Gilkey's pocket watch and shows us the mechanism that keeps him ticking along, seemingly unable to stop himself from stealing books. Even after serving repeated prison time, Gilkey keeps at it.
It's that focus on obsessive psychology readers will find fascinating while reading this book. I find John Gilkey to be an extremely annoying and odious individual. I would never pretend that he is justified in what he does (Gilkey's justifications for stealing all fall flat with me). But for as wrong as he is, I feel for him. I believe that Gilkey believes he's protecting rare books from many of the wealthy collectors who buy them just because they can. He is a quirky, unlikeable person with a likeable trait: a love of books.
I would love to have a first edition of Fitzgerald's The Great Gatsby. Few times while reading have I ever felt for a character as much as a scene in the book when a list of resolutions to improve Gatsby's life is found written in the back of a Hopalong Cassidy book. Like Gatsby, Gilkey struggles with who he is and what he wishes he were. The difference: Gatsby did it, while Gilkey seems destined to repeated failure. Desperation, sadness, and the easy way out replaces drive in Gilkey's world.
Near the end of The Man Who Loved Books Too Much, Allison Hoover Bartlett breaks away from the story of Gilkey and Sanders and talks about the future of books. She briefly ponders the fate of physical books when e-books become widely accepted. She mentions her teenage children, and touches on their relationship with reading:
"They will have no objection to reading e-books. At the same time, though, I think that may strengthen their attachment to the physical books they do keep."
– Allison Hoover Bartlett
I know this is true for me.
Even when e-books become the norm, there will always be people who love physical books too much. In some way, perhaps more than ever.
If you feel a need to defend physical books in a world that's going electronic, there's a little bit of John Gilkey inside you.
The Man Who Loved Books Too Much examines this trait in many of us who love books, while doing an excellent job giving the reader an inside look at the world of rare books and literary obsession.