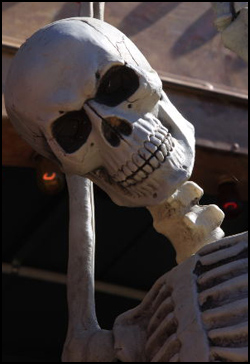 It's two days until the scariest holiday: Halloween. (And the birthday of my favorite person.)
Boo!
I've done a couple scary things this month: I started podcasting, and I started freelancing.
I've written about why podcasting was scary for me, here. Freelancing is something I've thought about doing, so when a couple opportunities came along, I took them. (Unemployment can be a great kick in the rear to get you to try something you may have otherwise put off.)
Scare Yourself
In honor of Halloween, I hope you'll do something scary with your writing. Maybe write that one thing you keep putting off because you're not sure you're good enough to tackle it right now. Submit something if the thought of rejection frightens you. Stand up in front of a group of people and speak.
Just do something that scares the hell out of you.
The more you do things that scare you, the more you realize there was never really a reason to be scared in the first place.