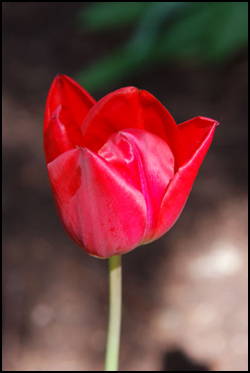 All this week, I've written about ways to get out of a writing rut and recapture the spark from when you first started writing.
Monday, I wrote about revisiting old friends. Tuesday, I wrote about rereading some of the writing from when you first started writing seriously. Wednesday, I wrote about revisiting old haunts. And Thursday, I wrote about rereading your old writing to see what you've always done right.
Today, I'm writing about trying something new to help you get out of a writing rut.
*          *          *
One of the easiest ways to get into a rut of any kind is to just do the same old thing, day in and day out. Work becomes boring when there's no variety or challenge; we sometimes come home after a long day and don't want to cook because when we think about dinner with a frazzled mind, we often come up with the same meals. Even if you go out for dinner, you probably go to the same places, simply because it's easy or convenient.
The same goes for writing. When you're writing the same kind of things over the years, you tend to go for what's worked before. Do that long enough, and even with all you can change from story to story, at some point–things seem familiar. Sometimes, they even become boring.
When most of us find a new recipe for dinner or a new place to eat, we're often excited about it. We tell others about what we had the next day at work; we tell our friends, "You've gotta try this!" or "You need to go eat there!" It's not that we don't enjoy eating–it's that we naturally gravitate toward certain things for a variety of reasons, and over time, those things can lose their spark.
If nothing else I've recommended this week helps you get back to writing, try something new. If you focus on fiction, try a different genre or challenge yourself to pitch an idea to a magazine. If you write non-fiction, pitch something you normally wouldn't write, or to a publication that you usually overlook.
Sometimes just trying something new reminds us of the days when everything we tried was new, and we couldn't wait to write.
It's not very hard to recapture that feeling if you're brave enough to try something different.