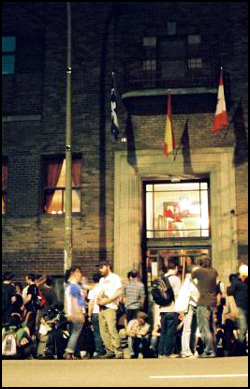 When I think about when I first started writing seriously, I can feel the cool breeze of that season and hear the leaves blowing.
I remember what it felt like to write all night with the windows wide open and the curtains moving in an out like a breath, as though the house were alive.
I remember the way everything smelled — the room where I wrote, the back roads I drove along with the windows down at night while thinking, new juggling props, mountain bike inner tubes, and even the damn microwave burritos that kept me going.
And I see the places that remind me of writing:
My old bedroom in a rickety house built in 1909
An apartment where two friends lived
The Tarrant County College campus (then Tarrant County Junior College)
The Southern Methodist University campus
The University of North Texas Campus
Comic book stores
Taylor's bookstores
Dallas' Deep Ellum District
I no longer live in that old house, and my friends have long moved on to married life. Taylor's bookstores have been shuttered for years, and my favorite comic book shop is gone.
But it doesn't matter. I sometimes drive by the old house where I first started writing seriously and look at the corner that was my bedroom.
A cool, breezy autumn night in any bookstore takes me back to nights I wandered around Taylor's for hours, and some of the comic book shops I frequented are still around.
I can visit any of the campuses mentioned above.
These days, I only go to Deep Ellum to check out the occasional art show or band, but it always reminds me of the nights I was hyped up on coffee if I was driving, or nice and toasty from beer if somebody else had the keys. Those rides home were often spent talking about writing and other creative things.
I can always go to places that take me back to the days when I first had the courage to say, "I write!"
*          *          *
If you're having a hard time writing, lately, make a list of old haunts that remind you of when you first started writing and visit a couple places.
Focus on what it was at the time that drew you to certain places and how they affected the writing you did back then. Even if it's just driving through the old neighborhood where you first started writing, it goes a long way.
Maybe you can't physically return to certain places, but as a writer you should be able to sit still and see everything in your mind. Sometimes the way we remember things is even better than reality.
If that doesn't stir memories of when writing may have come easier, put your ass in a chair and write a story about one of the places that used to be special to you.
If that doesn't get you writing, I'm not sure anything will…