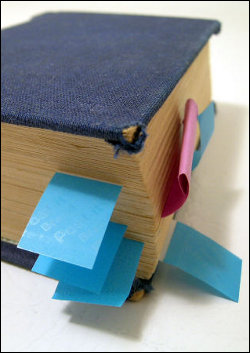 I'm currently getting feedback about my novel-in-progress from some trusted readers.
I've mentioned trusted readers before. As notes have come back to me, I've thought about what makes a trusted reader. The best advice I'd give to somebody wanting to be a trusted reader:
Tell the writer what's wrong — not what you would do.
I'm lucky because I have trusted readers who know my writing. They call me out when I'm being lazy, and they can tell when what I'm trying to get at can be made a little stronger.
They don't tell me what they would do with my story.
By that, I mean they don't say things like:
I would have made the protagonist female instead of male…
I would have had them drive a Camaro instead of a Charger…
I would have set the story in Montana instead of Oregon…
Those things are a personal preference. A trusted reader should be able to take their preference out of their reading and let the story stand on its own, offering suggestions to make things better based on what the writer created.
*          *          *
Now, there are instances when I hope a trusted reader does tell me what they would do with something I'm writing.
One of my trusted readers is a screenwriter/novelist named Mark Hosack.
Mark has made me a better writer several times in my life. With a couple suggestions, he made my favorite story I've ever written much better (even if it meant scrapping my favorite scene). As a kid, I bet Mark made cool things out of blocks because he has an uncanny ability of looking at the pieces of a story and knowing how they can be shuffled around and what needs to be added for a stronger foundation.
Mark is widely read and a bright guy. While he doesn't tell me what he'd do based on personal preference, he makes suggestions based on his knowledge of various genres and knowing what I'm getting at. So in that way, he's able to put himself in my place and tell me not what he'd do, but what I need to do.
[A shameless plug for a movie Mark recently wrote: Give 'Em Hell Malone
(affiliate link).]
*          *          *
Most of us have seen advice saying something along the lines of, "Don't get feedback from your parents or spouses."
By that, people mean, "Mom and Dad and your spouse love you, so of course they are going to say you are brilliant, even if you aren't!"
One of the best bits of feedback I ever got from my wife went something along the lines of, "I don't like the characters at all, but this is the best short story you've written to date." (My mom has said similar things over the years.)
I think my wife's feedback is the best example of what a trusted reader should do–she didn't let her dislike of the subject matter affect her editing.
She was able to separate personal opinion from what was wrong and right.
*           *           *
I have another trusted reader named Mark, a friend who has been there almost since the day I decided to take writing seriously.
I'd be hard pressed to find a more widely read person no matter how far I traveled. His mind works in ways my mind doesn't; if you cracked his head open, I'm convinced you would find a machine unlike any ever seen.
I don't think any writer knows my writing and what I set out to do as well as this Mark.
When I'm writing something complicated, he is the audience I have in mind, the person I'm setting out to impress more than anybody else. When Mark critiques something I've written and gets to a place that I tried something new or gave it my all, I watch him closely.
Sometimes there's a slight pause, a raising of the eyebrows with an intake of breath, and maybe even a slight grimace. He doesn't need to tell me what to fix; simply knowing that look tells me I can usually make that section stronger.
And when he gets to one of those sections, pauses, and smiles a bit — I know I've impressed the guy I sometimes write for. (And I know I've done my job!)
*          *          *
Your goal as a trusted reader: be the reader writers sometimes write for!