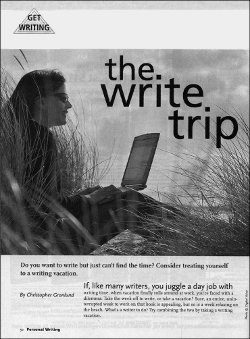 The last query letter of the week is a pitch sent to Writer's Digest.
I'd read Writer's Digest on and off since I was in my late teens, and decided to send a query for a sort of travel piece:
*          *          *
[Note: My contact information is flushed right on my query]
Christopher Gronlund
ADDRESS
CITY, STATE & ZIP
PHONE
E-MAIL ADDRESS
DATE
NAME
POSITION
ADDRESS
CITY, STATE & ZIP
Dear [Editor's Name],
So many writers juggle a day job with their writing time, and when vacation finally rolls around at work, they're faced with a dilemma: do they spend the week writing, or do they take a real vacation? What's a writer to do? Combine the two and take a writing vacation, of course!
As a featured travel writer for the Dallas Morning News, I've found that happy balance between my day job and freelance writing. From travel writing to fiction, I'm now doing some of my best writing while affordably getting away from home, and I'll share what I've learned with Writer's Digest readers so they can do the same.
The proposed article will highlight seven types of writing vacations:
Following Footsteps – Inspiration is easy to find when you're walking in the footsteps of your favorite author. I'll offer examples and suggestions so Writer's Digest readers can connect with their writing heroes.
Going There – Adding local color to your writing is easy when you're right where your story is set. I'll tell your readers how to get there—and stay there—affordably, as well as ways to get the information they need to make their stories sing.
Solitude – Thoreau wasn't the only writer wanting to get away from it all. For many writers, the jumpstart they need on their next big project can be found with an affordable trip to the middle of nowhere.
Travel Writing – A short primer to make this vacation, and all those that follow, a moneymaker for readers, no matter what their writing specialty.
Retreat – Whether it's an organized writer's retreat, or one your readers arrange themselves, a combination of workshops and relaxation is a surefire cure for the workaday writer blues.
Road Tripping – Affordable and fun, the open road is a great place to work through that difficult plot, while seeing a variety of places that excite and inspire.
Staying Home – Whether it's finally organizing the office, or hitting a local hotel for a short getaway, readers don't need to travel far to benefit from a writing vacation.
With the variety of options presented in this article, at least one—if not all—will appeal to Writer's Digest readers looking for the inspiration and solitude needed to jumpstart their next big project, while satisfying that urge for an exciting, unique vacation.
I invite you to view some of my writing at http://www.christophergronlund.com/clips. In addition to writing travel pieces for the Dallas Morning News, I've written Web content for a variety of sites, and my screenplays have generated interest from several major studios.
I appreciate your time and look forward to hearing from you soon.
Sincerely,
Christopher Gronlund
*          *          *
[You can see by this query that I was thinking about juggling work, writing, and life well before starting The Juggling Writer. In fact, rereading this article is one of the things that made me decide to finally stop thinking about it and starting this blog.]
How it Worked
This query resulted in my first magazine sale.
Why it Worked
There's that short thing again. While this is one of my longer queries, I still kept it to one page.
This pitch is a travel piece in many ways. I established myself as having the credits necessary to speak with some authority in the piece.
Also, I tell the editor exactly what they will receive from the article.
[As writers, we all look back on old work and think about things we'd change. I do that even with queries. Were I sending this today, I'd drop the whole, "In addition to writing travel pieces for the Dallas Morning News…" section. I didn't need to pad my credits for this query. Just thought I'd share; t never hurts to look over old queries to see how far you've come even in your pitches.]
What Happened?
The article didn't run in Writer's Digest; it ran in Personal Writing, a special Writer's Digest publication.
*           *            *
I hope this week of sharing query letters that worked for me inspires you to stop thinking about pitching ideas for articles and actually sending some to editors.
I need to get back to it, myself!
Next Week
Next week, it's back to writing about anything that comes to mind.
I hope to kick off the week with an entry about what I mean when I talk about juggling and balance.