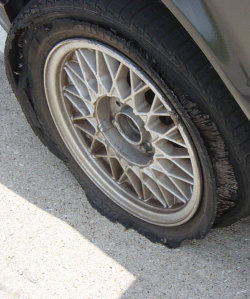 Since I had written a couple travel pieces for the Dallas Morning News and finally knew the editor on a first-name basis, I decided to send a pitch letter.
A pitch letter is a query letter, but it's a little different. Instead of sending a detailed query about a place you plan to write about, you send a list of places you'd like to write about and see if editors have a need for any of the ideas.
I sent e-mail to the travel editor I'd worked with, telling him my spring travel plans. I pitched 10 places I wanted to see in Texas. Here's what I sent:
*          *          *
Dear [Editor Name],
Last spring, I worked with you on "Highway Heroes," an article about Texas roadside attractions. This spring, I'm planning to visit the following places; do you have a need for articles about any of these locations:
Palo Duro Canyon — The second largest canyon in the United States.
Caprock Canyons — The third largest state park in Texas, with a 60+ mile biking, hiking, and equestrian trail.
McDonald Observatory — A great place to look at the night sky, in the Davis Mountains of West Texas.
Matagorda Island — This long barrier island is the perfect way to get away from it all.
Texas Breweries — Texas' immigrant heritage is reflected in its beers.
Texas Vineyards — Hill Country vineyard tour.
Monahans Sandhills State Park — Most people in the state don't know about these seventy feet tall sand dunes in West Texas
Enchanted Rock — Just north of Fredericksburg, Enchanted Rock is the largest pink granite dome in the United States.
San Antonio — A 3-day weekend guide to little-known attractions, dining, and the arts in the city.
Austin –A 3-day weekend guide to little-known attractions, dining, and the arts in the city.
Please let me know if you would like me to cover any of these stops this spring for the Dallas Morning News.
Sincerely,
Christopher Gronlund
*          *          *
How it Worked
This pitch letter resulted in four assignments:
An article about Palo Duro Canyon and Caprock Canyons.
An article about Monahans Sandhills State Park.
An article about Matagorda Island.
An article about Texas breweries.
Why it Worked
Again, the letter was short, showing that even though I had a relationship with the editor, I still valued his time.
It also worked because the editor knew he could count on me to deliver the pieces. I worked very hard on the roadside attractions article, so he knew I didn't mind getting out there and driving all over Texas to see cool things, research, and take photos.
What Happened?
I jumped jobs before a layoff hit me, and the new job sent me to Atlanta for two months during the spring, when the editor needed the articles.
For years, I always put writing before my day job. I thought going to Atlanta would impress my new employer; I thought going to Atlanta would be the right thing to do.
Looking back, I have much better memories from the travel articles I've written than from my last job. (And I really liked my last job.) I should have done what was right for me: telling the new job I couldn't go to Atlanta at the risk of losing the job.
I don't have many regrets as a writer, but I do regret passing on the four articles and putting work before writing in this instance.
The Juggling Writer is about juggling work, writing, and life. Using the juggling analogy this blog is based on, passing on these four assignments was my biggest drop as a writer.
But if I've learned nothing else from over 28 years of really juggling, it's that you have to pick things back up and keep going.
Assignments like these are always just a query or pitch letter away for anybody willing to do the work.
I hope yesterday's entry and today's entry help somebody take a chance to give it a try!
Tomorrow's Query
Tomorrow I'll share the query that resulted in an article sale to a Writer's Digest publication.