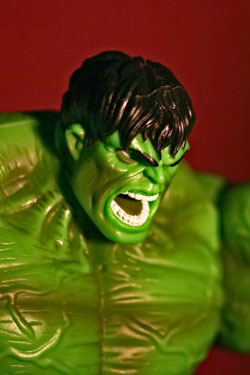 You sit down to write and the words don't flow. You get frustrated and maybe check e-mail. You pace; you might even do some cleaning or watch TV. You tell yourself that you'll get back to writing after your writer's block goes away. Hours, days, months, even years later, it's still there. Writer's block is very frustrating, right?
At least that's what I've heard.
I've never had writer's block.
Oh, sure…I've spent hours in front of typewriters and computers frustrated because the words weren't flowing like I wanted them to flow — they were either a trickle, or an uncontrolled blast from a firehose, making a huge mess of what I was writing. But when I sit down to write, I always write.
Here are 5 ways I've battled writer's block:
1. Admit that writer's block doesn't exist. If you're a writer, you write. When you don't write, it's not "writer's block," but other things getting in the way. Maybe it's thinking about work or other things you have to do. Most likely it's that you've worked, spent time with family and friends, and that you would rather spend time relaxing than working some more. But the times we don't write — if we're writers — it's our own fault. Remember: Every day you don't write is another day you have to go to work.
If you still have issues each time you sit down to write, you might want to consider another line of work.
Seriously.
That may sound harsh, but a big part of writing is writing even when you don't want to write.
2. Practice. The enemy of writer's block is practice. So many people get blocked when what's in their head doesn't make it to the page. It's beyond frustrating when you see something so perfect in your mind and when it reaches the page, it limps along. The more you write, the easier it becomes to empty your head onto the page.
The more you write, the better you get. Seems obvious, but many people think writing is easy. If you're having a hard time, recognize that it means you take pride in what you're doing and won't settle for less than what you know you're able to produce. The only way you'll be able to produce what you want is by writing a lot.
Practice makes writing a comfortable habit; practice doesn't make writing easy, but it definitely makes writing easier.
3. Cut things out. On Friday nights, my wife and I visit my mom and we watch Numb3rs.
It's the only TV I watch all week.
I like TV.
A lot!
But I have a choice: watch TV or write.
When we convince ourselves that we're blocked and can't write, we look for other things to do. Watching TV, surfing the Internet, or playing videogames are great things to do when we don't want to write. So cut the distractions out: Turn off the TV, close your Web browser, and put down the controller.
It's not that these things are bad, but save them for when you've hit your writing goal for the day.
Put them before writing, and you have only yourself to blame.
4. Dedicate an hour. Once you are free from distractions, sit down for an hour and write. If the words don't come, sit there! Don't open a Web browser or check e-mail. If you sit there long enough, you'll start writing. The words may not seem right, and it may be frustrating, but if you force yourself to sit in a room with only two options — doing nothing, or writing — a writer is going to write.
I set the timer on my iTouch for an hour when I don't feel like writing. More times than not, when the alarm goes off, the words have started to flow and I finish what an hour before seemed like the biggest labor I'd ever faced.
5. Fix it later. Earnest Hemingway said, "The first draft of anything is shit."
I don't know if I'd go quite that far, but even the most revered writers have saved some weak work by rewriting.
After you've spent your dedicated hour to getting something down, go back and fix something you've previously written. Take a good look at the original writing and what you fixed. Even what you fixed may need more rewriting, but when you know that you can fix something ugly, you're going to be more likely to put at least something down on those days you're having a tough time.
And if you're able to put something down even when you don't feel like writing or when you're frustrated, you've made writer's block cease to exist!