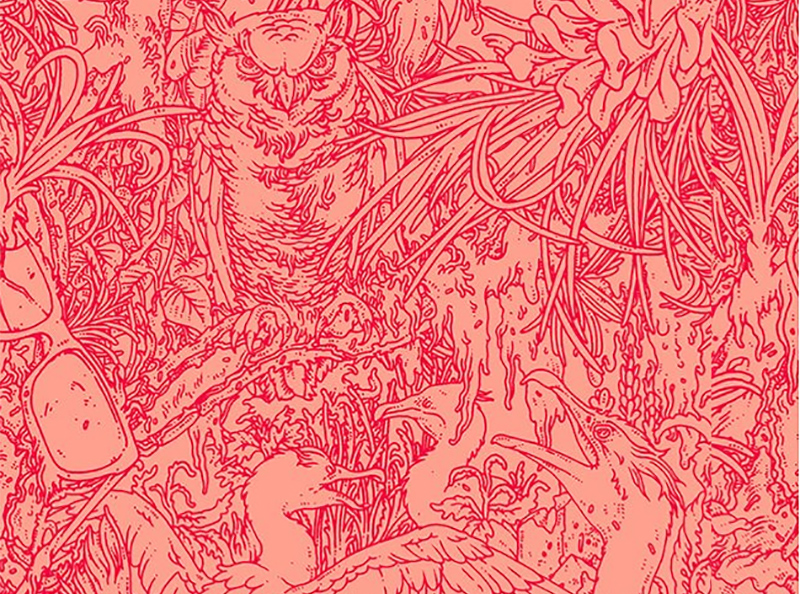 I've been meaning to read if for the last week, but last night I finally got around to reading this Jeff VanderMeer piece in The Atlantic about writing the Southern Reach trilogy.
I'm currently reading the trilogy (I recently wrote about the first book, Annihilation). I'm currently writing a trilogy of my own (I printed the first draft of book one last weekend, in fact). So it was definitely the right piece at the right time.
A Peek Behind the Curtain
It's safe to say that The Atlantic piece VanderMeer wrote just might be my favorite look at an author's writing process ever. If you are not familiar with the way the Southern Reach trilogy was released, it was three books in a year: BOOM! BOOM! BOOM! Which meant Vandermeer — at times — was touring to promote the first book while editing the second book (and working on the third).
It's a maddening pace and, once you read about how much VanderMeer puts into his writing (he's not unlike a method actor in the lengths he goes through to get words down), it's the perfect example of what many writers mean when they say, "Writing is not as easy as many think…"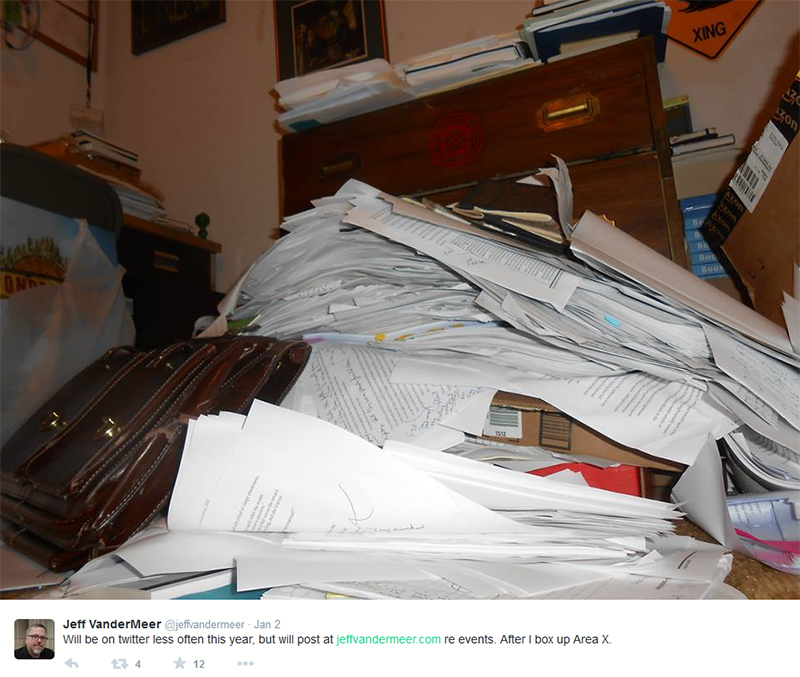 The Aftermath (Not Unlike Something Found in the Top of an Abandoned Lighthouse)

Everyday Things
With few exceptions, I rarely put things that actually happened in my life into the things I write. There is a part in VanderMeer's Authority that fascinated me. It's a tiny thing, but it really stuck out the more I read. VanderMeer goes into detail about the real-life thing that led to the part in the book (it's about a mosquito). He also talks about long hikes into wetlands, breaking into his own house, and so many other things he did to get it all down on pages.
It made me think about the few real-life things that have made it into my own work. (Generally, it's feelings, thoughts, and themes that make it in — not actual things that happened in my life). It also made me think about getting out even more and applying that to my writing.
My current novel (the first of three) takes place largely in Las Vegas and Boulder City in the early 30s through the early 40s. It's been years since I've seen the Grand Canyon, Zion National Park, and some other places in the book. I want to go back — and to see places like Vegas and Boulder Dam/Hoover Dam that I have never seen before.
The Pacing
With a full time job day job and the way I write (as a dyslexic, I rarely throw down thousands and thousands of words even on a good day — let alone on an average day), reading VanderMeer's piece made me think more about pacing.
He wrote the first book of the series in 5 weeks. Granted, VanderMeer writes full time, but I know I'm capable of getting a first draft out much faster than it usually takes me. (And even among full time writers, what VanderMeer pulled off is the literary equivalent of lifting a dump truck over one's head and throwing it down the street.) Since I initially imagined A Magic Life as one book, parts of the second and third books are already written.
That's a good head start, and I definitely plan to produce drafts of the next two books quicker than the first.
The Unknown
With a contract for three books (and foreign language rights and film rights selling), VanderMeer had a little issue with his trilogy: he didn't know how it all ended! Add to that such a pressing publishing and touring schedule — and just imagine the pressure. People were counting on him, and he didn't even know what happens in one of the important final scenes!
VanderMeer talks about how the scene finally came to be (again, pulling from something physical in the real world). And with that, everything comes together for him and the trilogy.
I've already written the ending of A Magic Life, but I know things will change as I write more. There are several ways I can go with it all…and so many other unknowns. But when one is worried about what they cannot see while writing, it is wise to remember E.L. Doctorow's famous quote:
It's like driving a car at night. You never see further than your headlights, but you can make the whole trip that way.
More than that quote, though, I will now think about VanderMeer's piece in The Atlantic any time is need a little inspiration.
Seriously, Go Read It!
That article link again…GO READ IT!!!
Buy the books: Annihilation, Authority, Acceptance, or the whole thing in one pretty book.