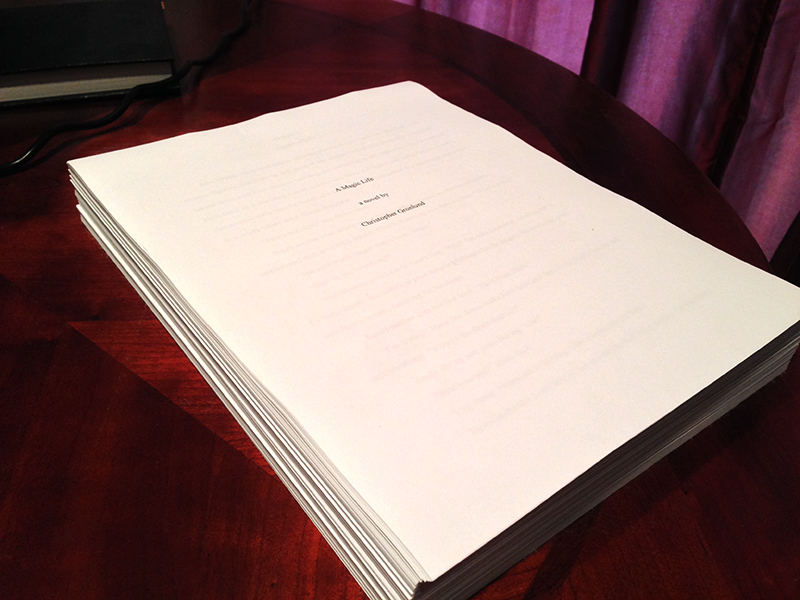 I didn't write this past weekend. Well, I didn't work on the novel-in-progress this past weekend…because I'm calling it a done draft!
Sure, there are some rough edges and parts where crude notes like MAKE BETTER! and DESCRIBE MORE SHIT! linger. Some parts — most of the novel, really — is pretty readable (which is unlike any other first draft I've written). Oddly, the parts that I plotted out the most before writing are the parts that will need more than just a polish.
It's been quite a thing, writing this novel…and there's still so much work ahead. Some thoughts after printing the first draft…
Things Change
One of the reasons I'm not the biggest planner before writing a novel is things change. I always have rough ideas and things I write toward, but I've found that things often don't become truly clear until you're deep into a story. (Which is why writing instead of planning and planning and planning seems to work for so many writers. It's not that we don't plan — it's that we know we can't put it all down before writing and say, "This is the story that will happen." Planning in chunks, as more comes into focus, works best for many writers.)
Some of the changes that happened along with way with A Magic Life:
I tried tying it to a character in my first novel (you can say it's very loosely based on the grandmother in Hell Comes with Wood Paneled Doors), but the timelines and some other things didn't sync up. Best not to force it and just let it become its own thing.
Somewhere along the way, one book became three. I'm still a bit iffy about making it a trilogy (I sometimes think just making it two books — or back to one — is the way to go), but some of the early readers, when hearing what I planned to drop to make the entire story come in around 100,000 words made great arguments that those chapters should stay. So…more than one book became a thing I was not expecting.
Tenses shifted. Originally, it was going to be third person, past tense. Now it's third person, present tense.
The story moved west for the first book, settling into Las Vegas and Boulder City (just as Vegas began to become something more and Boulder Dam rose and grew into the Hoover Dam). Because I was thinking so much about the grandmother's story from Hell Comes with Wood Paneled Doors, at first, I thought the book would mostly take place on the east coast.
Job changes. The opening line (at the time, "June Mangione was born shortly after her mother was cut in half.") was written years ago, while I was still working on another novel several jobs ago. I started A Magic Life when I was at the job before my current job. (The reason for sharing this is the reminder that life is full of changes and, unless you're writing fiction full time, progress usually does not happen as quickly as we'd like because a layoff usually means dedicating months to getting into the swing of a new gig. I went through that a couple times during this novel.)
Things Break
After 21 years of loyal service, my old HP LaserJet 4L printer died…while printing the first draft of A Magic Life. (More on that later this week — it deserves an entry all its own.)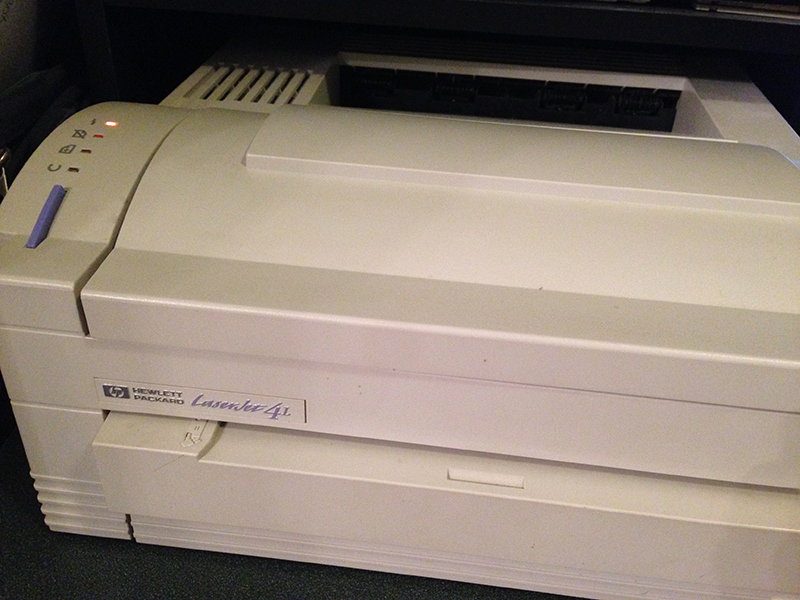 Things Get Better
I was at a good job when I really started working on A Magic Life, but I'm now at the best job I've ever had. Even when overtime is required, I'm happy, and that makes writing so much easier than the times I've struggled at jobs I didn't like and wasn't as happy.
I have a tumor in my head that, unless a cure for the condition is discovered, will always be there. But in the time working on this novel, my health has improved. (I at least feel better than I have in years.)
My writing got so much better. I recently wrote about not being ready to tackle the last novel I wrote when I started it years ago. I realized I was not skilled enough, then, to tackle it, and I wrote two other novels before finally writing it. I'm proud of that novel (I'm not sure I'll ever write a more me kind of novel again), but A Magic Life really allowed me see the result of years of working hard. I've never been more proud of something I've done as what I've done with this book!
I Still Wonder
I still wonder if a trilogy is the way to go. I sometimes think, "I should have just been like, 'I'm just going to write a 225,000-word novel!'" But I know the odds against seeing any novel published are slim — and those odds become even longer when you say, "A completed, 225,000-word novel," to agents and editors and publishers when you have yet to prove yourself. I know some say word count shouldn't matter, but I understand the risk of accepting any new writer — let alone one with a huge book.
I wonder what will change again and again, if accepted, as others see things I don't see in the story. I've always loved working with editors on magazine and newspaper articles, and I love feedback from trusted readers. There is only one thing I would refuse to change with this story — I'm pretty damn flexible and willing to make things even better.
I wonder how, when the following drafts are done, I'll go about trying to get this book (and the others that will follow) published. I'm terrible at calling on friends and acquaintances who can help — and I wonder if a trilogy is a boon or a bane with something that may not be full-on literary fiction, but is definitely upmarket fiction.
The Funny Thing About Wondering
All those what ifs can get to a person. Some people never even finish a short story because they obsess about so many possibilities. There's something final in finishing something.
If nothing happens with a story or novel, some feel dejected; they have a hard time coping with no one wanting what they spent possibly years creating. It's why I think one should work on the things that mean the most to them, the things that if no one — not even those closest to them — read…they'd still be satisfied in the effort of doing something they wanted to do.
I can sit here and wonder about so many things, but I have several rewrites with this novel ahead of me…and planning a couple more novels that make up this story.
Wondering and obsessing can be much easier than finishing, but with tinkering with something too much comes a pain of never finishing something. Sure, if you don't finish, it's easy to hide behind all that wondering, but wondering too much can eat at a person.
At some point you have to finish things to find out what happens. I look forward to seeing what happens with this three-book story about a girl born in a circus and her rise to fame as a magician in the 40s and 50s…