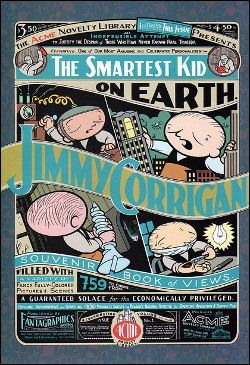 The first time I saw a Chris Ware comic strip was in the early 90s, in a comic book anthology called JAB (Adhesive Press). It was a series of strips about a little guy who looked like a potato.
To this day, if I drag the comic book out, those strips still hold up.
They're humorous and tragic; they show a talent for something different from the start.
Evolution of an Artist
Chris Ware's work has evolved from black and white strips to this kind of thing:
Visit NBCNews.com for breaking news, world news, and news about the economy
Impressive, eh?
Nobody Tells Me What To Do
I think my favorite line in the interview is Ware saying, "Nobody tells me what to do…"
Not in a "Slag off! I'm gonna do what I want!" manner, but rather: "I've always just done my thing and, because of that, I now get to do my thing for a living."
So often, people say, "You should write what's selling! Why would you put years into that novel that probably won't sell well when you can crank out four vampire romances with better odds of selling in that time?!" (Well, maybe they don't say those words exactly, but I'd be wealthy if I were given money every time somebody told me to write what sells.)
Those people don't get it: for many, it's not about doing what sells, but about doing one's own thing.
My views about what I want from writing have changed quite a bit in recent years.
I have a feeling I'll be talking about my own thing quite a bit more in coming weeks…