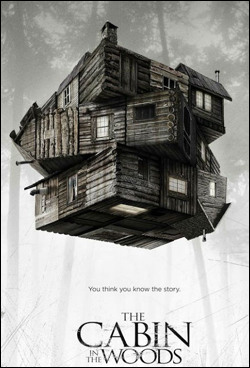 Part 1: It Started in the Basement
Part 3: My [Kinds of] Monster Movies
Part 4: My Own Tales of Terror
* * *
If you don't know the name Joss Whedon, you've probably at least heard about a little movie called The Avengers that he wrote and directed.
But a month ago, he was part of another movie that I want to talk about: The Cabin in the Woods.
Whedon wrote it with Drew Goddard (who directed the movie). Why would I dedicate the final entry in my babbling about horror and me to this movie?
Because…it made me fall in love with the genre all over again!
Stopping Horror
I mentioned that I stopped watching horror when it seemed to take a turn toward movies about people just being tortured for 90 minutes. Apparently, that bothered Whedon, too, and was — according to an interview I read — one of the things he wanted to touch on when he and Goddard got together to write the script.
I know there's been good horror being made; I just strayed away…and I'm not the only one I know. One can only watch so many Saw sequels or, "Hey, look! MORE ZOMBIES!!!" before it just all loses something.
Hell, the very first footage I saw from The Cabin in the Woods focused on the five characters in a cabin and left me thinking, "Aw, come on!" (BTW: "Aw, come on…!" is one of my favorite lines in The Cabin in the Woods…at least what follows the line being said. I don't know the last time I laughed that hard in a theater.)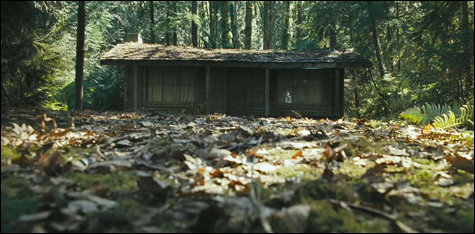 Things are Not What They Seem
When I started seeing trailers for The Cabin in the Woods, I realized it wasn't what I thought it was. (Trailer here, but really…you should just go see it with no spoilers!)
The movie surprised me because it wasn't what I expected — even after I realized it wasn't what I thought it was. I don't want to give too much away, but I will say it's a love letter to EVERY horror movie ever made…and…explains the REASON for every horror movie ever made!
That's no easy task.
Tight Writing
I'm not going to say The Cabin in the Woods is the best movie you'll see this year, or that it's the best horror movie ever. But in a weird way, it's both those things (and more) to me.
What I will say is that if you remotely like horror and tight writing, GO SEE IT…and learn!
I really stopped watching horror because it all started seeming the same to me. With the exception of things that kind of deconstructed the genre, like SCREAM, horror left me flat. The writing was so basic, and often lacking any heart: take group of people, isolate them, kill a bunch — maybe letting one get away — and set up the sequel. And that's all fine…I can't argue that structure, especially when that basic structure is what taught me how to write. (Although I was always more interested in psychological horror.)
The Cabin in the Woods is a good reminder of the payoff that comes from knowing your history and refining your twist on it all until it's…not what it seems. It's basic in itself: set up an archetype, and then spin that archetype on its head, but I'm not sure I've seen a movie do such a brilliant job at that, recently, as The Cabin in the Woods.
It Pays to Be Funny
The Cabin in the Woods didn't scare me. (That doesn't seem to be the goal.) There are some creepy parts, but they lean on established horror techniques meant to evoke a sense of…well, creepiness! It's a very interesting film from the opening scene, which could almost leave a viewer who hasn't seen the trailer wondering if they are watching the wrong film. (The opening dialogue is the best opening to a movie I've seen in years.) It's all…pretty damn funny!
It's not a laugh-a-minute film, but when something funny happens, it's like a headshot by a sniper — right on target! Little things established earlier pay off in remarkable (and often hysterical) ways. While there are truly horrifying things in The Cabin in the Woods (people in the theater seemed quite bothered by the last 30-40 minutes), one of the most horrifying things is finding yourself laughing at things you should be ashamed to find humorous.
It takes a particular understanding of what you're writing and an understanding of human nature to pull that off. Whedon and Goddard wield that ability like a weapon. Weeks later, I'm still thinking about The Cabin in the Woods.
Letting the Creepiness Creep Back In
So that's it! Like I said, The Cabin in the Woods made me fall back in love with the genre. I've looked at old horror stories I started years ago and set aside, wondering how they'd turn out with 10-15 years of experience between then and now. And…I've also been digging around, looking for the movies that slipped through the cracks while I stepped away. That's where you come in.
In the last 10-15 years, tell me what I've missed!
And go see The Cabin in the Woods…