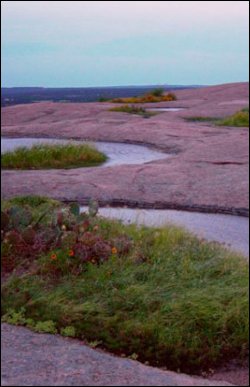 [If you missed part 1 of this yesterday, read that before reading this.
This is part 2 of a 3-part series.]
* * *
If you decided to not read yesterday's entry, here are the important parts:
When I was 20, I gave myself 20 years to make it as a writer. If I didn't make it writing by 40, I'd bow out forever. (A cryptic way of saying I'd kill myself.)
This is a good quote:
"'In the time of your life, live!' That time is short and it doesn't return again. It is slipping away while I write this and while you read this, and the monosyllable of the clock is loss, loss, loss, unless you devote your heart to its opposition.
– Tennessee Williams
A Life is Lost in Seconds
There's no denying all the time I devoted to writing helped me get better. I saw the time pay off…literally! Few things feel as good as paying bills or buying things with money you make from what you love doing most in life. But somewhere along the way, I realized many monosyllabic ticks of the clock were still lost.
There were all the parties I put off in order to write…
There was the vacation time lost to a week of writing instead of…well, a week of vacation! (I've still never taken a week-long vacation as an adult.)
There was weight gain because I spent more time writing than getting off my ass and moving…
There were all the nights my poor wife went to bed alone because I was on a roll writing and couldn't bring myself to stop…
I lost a lot in that mad dash of 20 years, but I told myself it was okay because once I made it, everything would be all right.
Everything Was Not All Right
Something happened in my late 30s: I became very depressed.
Depression was nothing new to me — it's something I knew from an early age. (If you skipped yesterday's entry, you missed a link about that.)
I had battled through the depression that was always there. I had battled through the depression that comes with losing a father at 22 and a big sister at 33. I had battled through the depression that came with a brain tumor large enough to begin blinding me in my early 30s. (A massive pituitary tumor can blind you by pressing on the optic nerve and really change who you are). But even that wasn't like the depression that came as the clock ticked down to 40.
The stupid deadline I gave myself at 20 was fast approaching. Writing became an act of desperation — a do or die thing!
Would I have time to complete the novel I'd spent 20 years preparing to write, or would I end it all before finishing? I'd written other novels in that time, but I put off the more serious stories, knowing that it takes a greater effort to pull together something bigger than a Point A to Point B novel, like my first. And that first truly challenging novel was finally coming together in my late 30s, but my rush to finish before turning 40 got in the way.
My 40th Birthday
I almost didn't take the time off when I turned 40 to knock around Texas. My wife asked what I wanted, and I'd come to the conclusion that suicide at the moment of 40 was the kind of thing a stupid punk kid talks about — not something I was still focused on doing. So…I just wanted to see some old friends and get away for a handful of days.
I'm glad I stopped feeling sorry for myself and took the trip.
My wife and I went to Austin, where we saw an old friend. Then it was to San Antonio where we wandered a cave. It was hot and sunny when we went in, but a lot different outside when we came out. As the guide pointed to a fault line in the cave's ceiling, the cave RUMBLED! People were terrified. I don't know a lot about earthquakes, but being in a cave when one hits doesn't seem like the place to be, stalactites and all.
It wasn't an earthquake, though; it was thunder. In the time we were under ground, a huge storm rolled in; one of the bigger storms I've seen in my years in Texas. Leaving the cave, we were greeted by a rush of cold air and driving rain. As others stayed behind waiting for the storm to break, my wife and I took off, running for the car. We laughed the whole way, drenching be damned! And that's when it really hit me: I'd lost so many seconds like that in my life in my race to make it writing.
Read that again 'cause it's some important stuff:
I'd lost so many seconds like that in my life in my race to make it writing.
After the cave, we had lunch with an old friend in a great place in San Antonio that's since moved from the cool, crooked building it once inhabited to another location. (I can only assume the food and drinks are just as good, so if you're ever down there, check it out!)
Then we went back to Austin, for a night all to ourselves. And the next day, May 25 — the day before my birthday — we went to Enchanted Rock.
On the Rock
I won't bore you with all the little details of the trip and force you to view vacation photos of one of the coolest and creepiest places where I've ever camped. This is the part that matters:
On the night of my 40th birthday, my wife and I slept in a tent at the base of Little Rock (the smaller granite structure next to Enchanted Rock — the BIG granite structure). Well, I didn't sleep…at all. At 4:30 or 5:00 in the morning, the plan was to go to the top of Enchanted Rock, where I'd turn 40 at precisely 6:21 a.m.
That was the plan, anyway…
All night long, we were surrounded by storms. Nothing more than a sprinkle or two hit us, but still…things weren't looking good. As we climbed Enchanted Rock in the dark, there was a horseshoe shape of storms all around us. With it, came a cool breeze. (Which was nice after being almost 100 degrees outside the day before.)
The lightning was getting closer, but the one place with no storms — only clouds — was to the east. We almost climbed back down, but the storms to the south crumbled, bringing even more cool — almost cold — outflow winds our way.
With lightning to the south, west, and north the sun came up in the east.
And this is what it looked like at 6:22 a.m., after kissing my wife at the moment I turned 40 on Enchanted Rock: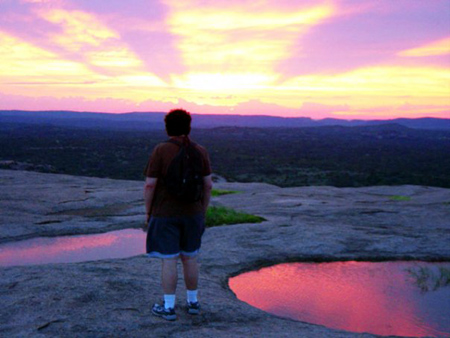 How the hell could I even think of the stupid plan I came up with at 20 and killing myself because I hadn't yet made it writing when I'd experienced a perfect moment like that?!
[Tomorrow: the Conclusion.]