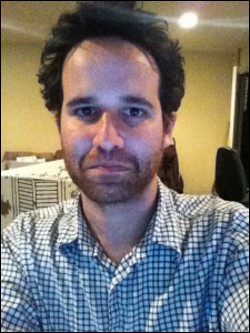 I met Mark Hosack twelve years ago last month. This was my first impression of the guy: "I'm finally not the only one in the room with mad scientist hair!"
It was a crew meeting for Pale Blue Moon, an independent film Mark was preparing to direct. I was there as a production assistant on the film, but ended up a grip by the time it was done. Somewhere along the way, Mark found out that I wrote. With a mutual love of quirky stories (and scary haircuts), we hit it off.
I'm glad I finally got around to interviewing Mark because he's definitely a juggling writer. With two young children and so many writing projects going on at once, he's proof it can be done. He's also a great example of where hard work can get you.
I could prattle on, but I'll spare you and just say this: I hope by the time you're done reading this interview that you'll like Mark as much as I do. (And learn a thing or two in the process.)
Please tell us who you are and how you came to be a writer.
Hi, my name is Mark, and I came to writing rather naturally. I started in high school simply because I enjoyed reading, and I wanted to try my hand at writing.
For my first project, I wrote a few really bad chapters of a fantasy novel. (I read a lot of fantasy back in the day, Dragonlance and Forgotten Realms). Soon after, I tried my hand at screenplays, adapting "The Most Dangerous Game," a short story by Richard Connell. That's what really gave me the bug. I wrote that sucker, and it came in at 150 pages. Of course I didn't own the rights to the short story, but I didn't know that I needed to back then.
What are a couple things readers of The Juggling Writer may have seen or read that you've written?
I wrote and directed a film called Pale Blue Moon (which a couple of people from the Juggling Writer helped produce). And most recently I wrote Give Em Hell Malone
(affiliate link), with Thomas Jane and Ving Rhames. My first book, Identity
(affiliate link), will be released this summer and I have another film, White Knuckle, in development — which means please-God-make-it.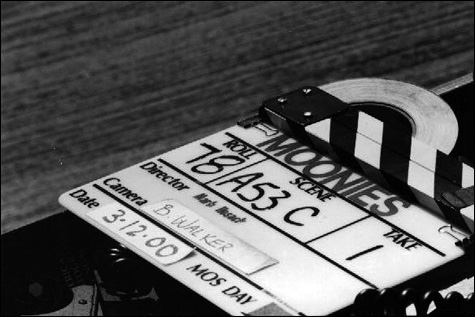 You've written quite a few feature-length and short screenplays — a handful of which have been produced. How did you break in?
My brother, Ray, and I made a couple of films, one, a short called Hinterland, and then a feature, Pale Blue Moon. I wrote and directed both, and both films were independently financed by very charitable friends and family as well as by ourselves.
Pale Blue Moon was very much film school. After I finished it, I moved to Los Angeles, full of gusto, and Pale Blue Moon went on to get rejected by practically every film festival and every distributor. Gradually, over the next two years, it started playing festivals and got picked up for distribution by Shoreline Entertainment.
While all of that was going on, I wrote several scripts, including Malone, and shopped them around. They were rejected everywhere. Three years in Los Angeles flew by, there were a lot of close calls, but nothing got made. I pivoted and started writing books, thinking it would be easier to get published than produced. Ha! Two years after that decision, Malone finally got real money behind it, and we shot it. That lead to a development deal for a film called White Knuckle. So I guess, how did I break in? The two "P's." You've gotta be Persistent and you've gotta Produce. Very rarely does anything happen quickly, and, if you're trying to break in, you have to have original and completed material to sell.
How would you describe the things you write?
Now I write thrillers. True story:  Pale Blue Moon is a dramedy about a homeless man who believes aliens are invading the earth from the moon (think a low-budget Fisher King). I wrote several scripts afterward — dramas and dark comedies — but everyone said, "Write an action film!  Write an action film!" So I wrote the most over-the-top action film I could think of, Give 'em Hell, Malone, about a legendary hitman who gets paid to keep secret the true meaning of love, and that's the one that got made. Of course it took five years after I wrote it to get made, but it still got made.
(It's a red band trailer, so…not safe for work.)
I know you've also written a few novels. Do you have a preference: screenplays or novels?
I enjoy both — I'm more of a plot guy than a format guy. If it's a good story, I can get it into it, whether its a book or a script.
Sticking to novels for a moment, can you tell us a few of your favorite books?
My favorite book is probably Breakfast of Champions by Kurt Vonnegut, even though Mr. Vonnegut himself constantly bad mouthed it. A good friend of mine loaned it to me in high school and it really opened my eyes to literature, so I suppose nostalgia has something to do with it.
Books that have blown me away are usually the classics: Catch 22, 1984, Of Mice and Men, The Catcher and the Rye, The Great Gatsby, Narcissus and Goldmund. These days I read more Stephen King and Michael Connelly — mostly because I'm trying to write in their genre, and it always helps to read the great contemporary writers in your genre.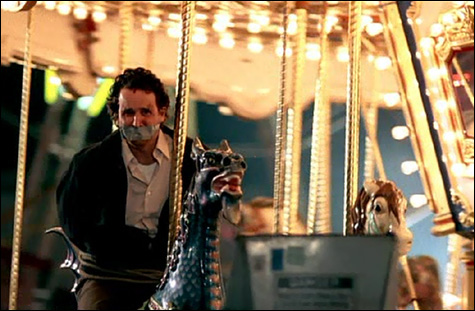 What's the best thing about being a writer?
It's all very exciting if you enjoy the work. Sitting down and creating something original that people enjoy is what does it for me.
What's the worst thing about being a writer?
Probably the risk. There's zero guarantee of financial success in this business.
The good news though is that no one can stop you from writing. In the film world, it's the only creative endeavor that doesn't cost money — it only costs time. That means you can practice for free until you're good enough to knock it out of the park, unlike directing, which requires cameras, a crew, locations, blah, blah, blah.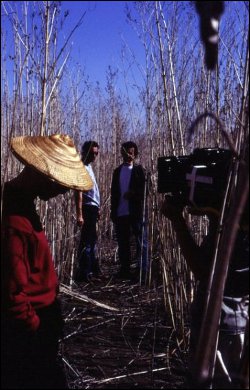 An off-the-wall question stolen from Shawn Kupfer interviews: The world is now a desolate, anarchist wasteland, much like the Australian "documentary" The Road Warrior. The Great Humungous is even tooling around out there on a dune buggy with his speedo and hockey mask. What is your survival plan? What equipment do you take with you as you head out into the world? Who do you team up with?
I've seen your juggling skills — if you add a couple of chainsaws to your routine, I'd definitely choose you.
Without juggling chainsaws, I doubt if there's a survival plan that would work against that guy. He's a beast.
You edit movies, write screenplays and novels, and are one-half of a team raising two young children. When [and how] do you find time to write?
I just carve it out.
Everything I've written (except for one script, White Knuckle), I've written on spec. I'm one of those guys who writes every day no matter what, even if it's just for 10 minutes. But most days I get a few hours in, if not the entire day.
Over the past fifteen years, I've worked freelance in the film industry as a film editor and crew member — the freelance lifestyle affords me the luxury of taking weeks off at a time (if I've saved up enough cash). But the short of it is, you have to prioritize it.
If you're serious about writing, you'll find the time, whether that means waking up every day an hour earlier or skipping out on dinner or staying home on Friday night or forcing your wife to watch the kiddos. (Sorry, honey!)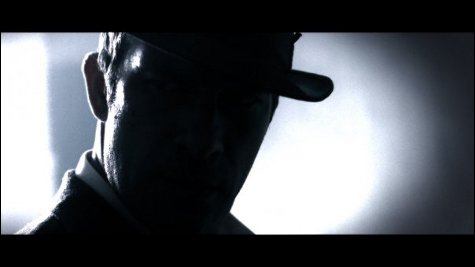 Your thoughts on writer's block?
I think it's real, but over-hyped. I don't know many writers who can't get through it. Being blocked is not knowing what comes next, which certainly happens, but you just have to work through it.
I usually outline what I have to up to the point where I'm stuck (using notebook cards is a good way to do it.  It allows you to get a better overview of your story). I've found that the answer is usually somewhere in the beginning.
An off-the-wall question: what's one of your favorite guilty pleasures?
With two kids under 3, I'd have to say peeing by myself.
What are you working on right now?
I'm manically preparing Identity, a business-thriller and my first novel, for publication this summer. I also have a couple of scripts in various stages of development — one a big action flick, the other a Hitchcockian thriller.
Not just saying this because I like Mark:
this is one of my favorite book trailers ever!
(I usually don't like book trailers.)
What's your dream project?
In the film world? Being hired to write a James Bond film. In literature? I just want to write something really well.
In my opinion a book is more difficult to execute than a script, though certainly more books get published than screenplays bought. Scripts are also very collaborative — a book is the author and the editor, that's it. So you have to own it more than a screenplay.
Any words of advice for writers just starting out?
There's the obvious I mentioned above — Persistence and Production. Without that, it's very difficult to make it. But, being some fifteen years into it, I can tell you how it's gone so far and maybe that will help you: I had no clue this was really what I was going to do for a living until I felt like I was too old to go back to graduate school.
There's a lot of doubt. There's a lot of rejection. Other people make it right away (seemingly), and you'll hate them, but that's okay — your hate will make you stronger. It doesn't mean that you suck, or that you're doing the wrong thing with your life. Maybe you're not writing what's marketable. Maybe you should self-publish and show the world what you've got. Or, maybe you're not as good as you can be yet.
Stick with it. Get better. Writing isn't something you have to do. You're choosing to do it. Enjoy it as much as you can because enjoying it will probably make you better.
Thanks for your time, Mark. Before wrapping this up, anything you'd like to say before leaving?
Thank you, Chris, for allowing me to eat up bandwidth on your blog! And thank you, ye-who-dared-to-read-this-interview, for making it this far.
If anyone is interested in Identity, the book I'm working on now, it will be released by Pocket Books on August 7th. You can pre-order it now on any of the regulars (Amazon, Apple, B&N) and you can follow the blog leading up to its release at www.markhosack.com.