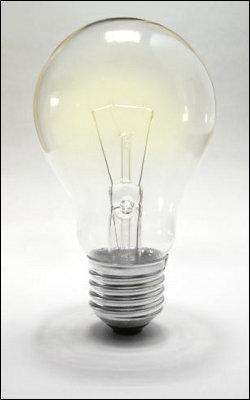 In Ann Patchett's The Getaway Car: A Practical Memoir About Writing and Life
(affiliate link) (my review), she mentions that she's not particularly fond of parties. It's at parties where it inevitably happens: somebody approaches her and says something along the lines of, "I have an idea for a book — would you like to write it?" (Because every best selling novelist can't wait to write the book of a person they barely know.) These people seem to think it's all in the idea.
The funny thing about writing and ideas: it's not really the idea that's the big thing — it's the work!
The Concept
Sure, a high concept idea can sell a screenplay or get a reader's attention, but anybody who's written long enough has a head full of ideas. Hell, some days ideas practically fall from our heads to the floor. Ideas many would deem brilliant, we roll around and kick away because we know what it takes to sustain an idea for 80,000+ words — and at the risk of sounding arrogant, it's not the kind of idea usually presented by the party guest. (If they even share it…sometimes they think you'll steal it, so even worse — they all but accuse you of being a thief. I can't think of a better way to begin a business relationship were I actually interested in writing their book.)
I've had people I barely know ask me to write their book for them. Obviously, I kindly pass. If they are insistent, I find an excuse to get away. As best as I can tell — even though it may be annoying — they really mean no harm.
Sure, it is insulting to have decades of hard work reduced to the belief that, "I have an idea and will make lots of money if I can get somebody to write my story." But in ways, I can't be too hard on these people; after all, we live in a world where having an idea is sometimes all it takes.
+ Shipping and Handling
Turn on the TV, and it's easy to see why people think all it takes is an idea.
"Want to get those tough stains out? Oxyfy them with Super-Duper OxyGlow!"
"Clean your car, your desk…even your children with ShammyCloth!"
"Does cleaning the litter box leave you smelling like a zoo? You need the Kitty Kleen system!"
"Stay warm and still eat dinner with your hands in Whammie's new SnugglySkin fleece body suit!"
The person with the idea behind every LOUD spokesperson you see on TV makes more money than most writers probably combined! All it takes is that one idea for the product everybody needs and you can have a yacht big enough to drive your Ferrari on. (Okay, so it's not that easy, but I think you get the point I'm trying to make.)
So it's no wonder that people think all it takes to create a successful novel is a good idea.
The Difference in Ideas
Ideas for novels and ideas for the gadgets at the check out line at Home Depot are different things.
Obviously, it's a single idea that starts a novel rolling toward a myriad other ideas. In the end, though, it's not a product that immediately satisfies a need.
I don't have to spend 20 minutes cutting a novel out of packaging — almost slicing a limb off in the process — before I can read it. And once in my hands, a book does not slice, dice, chop, and practically clean itself…all for just 19.95! (Act now, and get a second one free…and — for a limited time [i.e., as long as these commercials run!] — we'll throw in this weed puller AND add a lifetime supply of toothbrush heads (as long as you're willing to pay $25 dollars shipping!))
When I sit down with a novel, there's an investment of time. I don't spray a novel on the tile in the shower and let it do the rest. I don't wrap a novel on a leaky pipe or the finger I sliced while opening the product packaging. (Can you tell I hate product packaging?) Novels don't automatically refill the water bowls of pets or stick to any surface.
I sit down, alone, and spend hours with a novel.
Sure, "It's a story about a young married couple that wins a pub in southern Ireland," may be what got me to pick up the book, but it's unfair to think that all it took to write Matthew Bondurant's The Night Swimmer
(affiliate link) was that idea and some LOUD marketing.
It took years of hard work.
A novel is not a convenient product.
Why I Don't Get Too Mad at the Party Guest
On one hand, I really do want to smack the person who asks me to turn their idea into a book. Just SMACK! across the face — followed by, "Do you really think that's all it takes?!"
But then I think about it some more: while they are leech like, in ways — latching on and hoping — I have to cut them some slack. Here's why…
Because, to them, a novel is still a special thing. Having a story with their name on it is something they can only dream of. (Not because writing is some magical thing, but because they aren't willing to put in the work.)
It's not about thinking, "Man, I wish they made spray-on latex gloves!" and making a product; it's about being part of something much more creative. In a weird way, when they ask if we'll write their novel for them, it's a show of respect. Sure, not respect for what we do as writers, but for the medium.
If given the choice, I think most people wouldn't mind becoming rich from an all-in-one aerosol cleaner ("Clean your tires, your toilet…even your baby!"). But as they cross the country in their LearJet, I still think they'd give up a little of that to have a novel with their name on it.
Because it's not as easy as it looks.
A novel is much more than an idea.