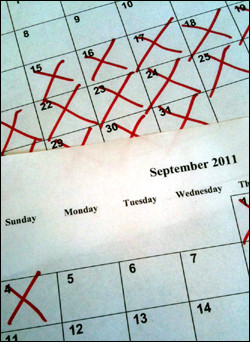 Something interesting happened this past week — my third week without social media. An explosion of ideas hit.
I'm never at a loss for writing ideas; that always comes first! But I realized that I haven't really thought about ways to promote all I'm doing because it's so easy to post stuff on Facebook, Twitter, and Google+ and feel like I've accomplished something.
Everything Has its Purpose
This isn't to say I haven't sold anything by saying, "Take a summer road trip for less than the cost of a gallon of gas — the Hell Comes with Wood Paneled Doors Ebook, only $2,99!" on Twitter, but I've come to realize something about the people buying what I write: most of them aren't other writers. Most people who follow me on Twitter are other writers. Oddly enough, with a few exceptions, the people who seem to be reading Hell Comes with Wood Paneled Doors are women in their 50s and 60s.
I figured with all the crude humor and over-the-top happenings in the book that it would appeal to guys between 12 – 45 years old. But I've received more email from women saying they were reminded of road trips they took when they were younger. More than that, though — they make a point to tell me they loved the moments of heart scattered throughout the story. I've sold more through word of mouth and to people I meet in real life than people who follow me online.
The Third Week without Social Media
This past week, I came up with a pile of ideas to promote Hell Comes with Wood Paneled Doors to people I bump into at meetups, conferences, and just here and there. That kind of thing was always on my mind when I wrote independent comic books, but I haven't thought about that kind of promotion as much, lately, because it's easy to believe that updates and tweets to all the people following me on social media sites is promotion.
Of course, this is all my own experience. I know people who really don't blog and just focus on Twitter for promotion and do well. What works for one doesn't always work for other. For example, LinkedIn and Slideshare have brought more my way than Facebook, Twitter, and Google+ combined. For others, those sites do nothing for them.
For me, the social media break has helped me think a bit differently about ways to let people know about what I'm doing.
Almost Two
The Juggling Writer turns two this week, and I've been thinking about what I want to do over the next year. Since taking a break from social media — already — I've seen an increase in traffic to the blog. It's become my online focus since I'm not on social media sites, and the things I'm doing are no longer lost in a list of updates on Facebook, Twitter, and Google+.
The people I hear from, now, are the people who really want to stay in touch with me and see what I'm up to. I've had more time to reply to comments on The Juggling Writer and get to the email I receive.
The Next Year…
During my social media break, I've spent time thinking about the next year of The Juggling Writer.
I plan to do more in addition to the usual entries. I want to do more video. (I've only done one video for the blog.) I want things to be fun, as well as informative. And I want more of my personality to come through.
What Would You Like to See?
So…as The Juggling Writer rolls into a new year, what would you like to see?