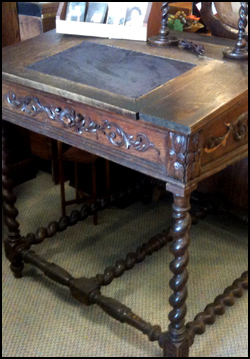 In his book, On Writing: 10th Anniversary Edition: A Memoir of the Craft
(Affiliate Link), Stephen King talks about how he once bought the perfect writing desk — the kind of desk he always thought a writer should have.
It didn't work for him.
*          *          *
There are times I think about having "the perfect desk" — either a beautiful antique desk, or something slick and minimalistic.
I envision myself coming into my office in the morning and running my hand over the smooth, hand-carved finishes of the antique desk, or placing my laptop (and nothing more) on the sleek desk. I love the thought of that, but it wouldn't work for me.
I have a confession: I'm messy when I write!
I need to scrawl notes on pieces of paper to capture thoughts before they disappear. I need to shuffle drafts of what I'm working on. I need chaos in arm's reach (I know where everything I need is in those piles). Notepads (yes, plural) are always at the ready.
I've come a long way from the days when I worked in billing and my desk was covered in notes scrawled on adding tape from my adding machine, but I don't think it's possible for me to work and not be surrounded by papers. (Maybe this is how I will justify the purchase of an iPad, but I have a feeling it would still end up resting on top of printed manuscripts and hand-scrawled notes that only I can read.)
*          *          *
I see people posting photos of their desks online and they're all so…perfect!
Everything has its place in a very soothing room where — I assume — relaxing magic happens.
It's not that magic doesn't happen in my office (my next book's about a female magician!), but I can't say my office is a soothing place to be for anybody but me.
The rest of the apartment is my sanctuary; the office is where I work, and I work in piles.
See?
What you can't see in this photo are the piles of comic book boxes, the stacks of books, and a bin full of juggling props behind the chair. You can't see the bins full of my wife's art supplies and sewing remnants. Oh, my office is also the laundry room, so when it's time for laundry, I'm back here with hampers and hangars and clothes hanging from the doorway.
It may not always be ideal, but it's better than saying I need an ideal workspace or I can't write.
Were I to do that, I'd never get anything written.
*          *          *
On Monday, I watched this video.
Desk – Music and Sound Design from Aaron Trinder Film:Motion:Music on Vimeo.
I love seeing where people work.
I love the thought of the designer's big square desk, so crisp and barren.
My writing room is more like that of Kurt Andersen's in the video. It's not pretty, but I like to think it's where some good stuff has been written and recorded.
*          *          *
I'm not a messy person, but my office is cluttered, no matter what I try to keep it in pristine shape.
Since I often work on more than one thing at a time, I tend to have more than one pile going at a time.
I'm okay with that.
Maybe there will be a day when I have a closet in my office where I can set my piles on shelves — where somebody wanders in and can't see a printer, wires, or anything beyond the form of a sleek desk and a designer chair.
Instead of a clunky laptop, maybe I'll write on an iPad with a wireless keyboard and limit myself to one small notepad and a stylish pen on my desk.
But I doubt it.
Even if I do one day have a Zen office like that, I assure you: come in during the day and there will be piles!
As much as I appreciate form, when it comes to writing, I'm all about function.
It's what I need to get the job done…
*          *          *
So now that I've shared what my writing space looks like, I'd love to see where you write.
Feel free to comment and include links, no matter how clean or cluttered your writing space is.