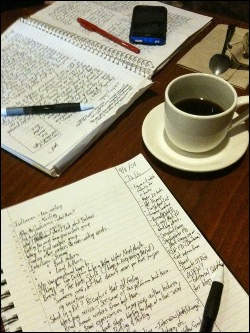 I hung out with my friend, Jeremy, yesterday. He's getting ready to head to New York City next week for a month (he is the recipient of the Dozier Travel Grant). During lunch, we talked about how when you're a writer or artist, people seem to love trying to give you ideas.
Or I should say, an idea, because many people seem to think one idea is plenty, and that if you as a writer or artist use their one little idea and make money, that they might be nice enough to give you maybe 10% – 20% of the guaranteed fortune that will follow; after all, it's the least they can do since you did all the work!
I'm not being too facetious, here–I've received more than my share of offers like that.
I'm sure I'll die with a pile of ideas that will never be finished. I think most writers and artists will.
One idea is never enough, and a pile of ideas doesn't mean a thing if you don't do anything with them.
This week, I sat down to come up with ideas for The Juggling Writer. My wife and I like to occasionally go out for lunch or coffee with a couple notebooks and work on blog ideas. When it comes to story ideas, I find that I'm never at a loss when sitting at my desk or driving. But when it comes to ideas for blogs or other planning, I seem to do some of my best thinking at the La Madeleine in Grapevine, Texas.
Monday, my wife and I went to La Madeleine and I came up with a pile of ideas for The Juggling Writer.
Now to sit down at my desk and get busy writing!
*          *          *
It seems that when I plan to attend a conference, I lose a job.
Shortly after registering for the Writers' League of Austin Agents Conference last year, I was laid off from a job of 5 years just before Christmas.
In July, I found a new job. When I started planning to register for Open Camp, I got laid off.
The good thing about the writer's conference in June? A job offer came the week after attending the conference. And it looks like there are some possibilities for some good news next week, after Open Camp.
I'm all for better things coming along after conferences, but I could do without being laid off before them.
*          *          *
One of the things I'm really looking forward to at Open Camp is attending some of the podcasting panels and chatting with podcasters.
I've been doing some recording, trying to figure out the best settings to get good sound quality for the podcasts I want to do.
I'm sure I'll walk away from this weekend ready to jump right in!
*          *          *
It's not going to be 109 degrees outside today. In fact, we're not even expected to reach 90.
Not that 88 is fall-like weather by any stretch of the imagination (it usually cools down in north Texas sometime in November), but looking at the calendar and the clouds, I can at least pretend that soon the leaves will change color and my favorite season will come spilling down from the north.
Every year, I get even more excited than usual about writing in September. October makes me even more excited than September, and by the time November and December roll around, I'm always in the midst of some very inspired writing.
I don't know if I can say I do my best writing in the fall, but there's not a time of the year when I enjoy writing more!
When the calendar hits September 1st, it's like a starter's gun at the beginning of a race.
I can't wait to shoot out of the blocks and get to some new writing this fall.
*          *          *
Hmmm…I thought I had more random thoughts this morning, but I'm ready to work on some other writing and run a few errands.
I hope you're all having a great week of writing!