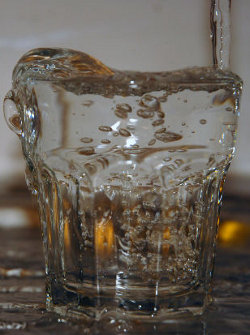 If I look over my left shoulder while sitting at my desk in the office, there are six longboxes of comic books and a small comic box to my immediate left.
This doesn't include all the graphic novels and collections.
This also doesn't include some of the comic books and collections on a shelf in the bedroom.
*          *           *
I met my wife (an artist) in 1992, when I was working for a small independent comic book company.
When we put our collections together, there wasn't a lot of overlap. Most of the DC comics came from me (with the exception of my wife's love of Batman), and most of the Marvel comics came from her (with the exception of my Daredevil love). We both read a lot of independent comics, but had different tastes.
We stopped buying comic books years ago (money and space became an issue).
But we loved and still love comics.
*          *           *
The first thing I ever wrote with the intent of publication was a comic book script for an anthology.
I was told I had 12 pages.
Each page was comprised of 1-8 panels.
It was a total change from short stories, where I could work on a story until it was done, regardless of space.
With comics, I was restricted to a set number of pages.
*          *          *
When I stopped writing comic books and moved on to screenplays, there was still restriction.
Granted, after writing 1, 6, 12, 22, 24, and 32 page stories with comic books, having 120 pages felt like room to fill, but I found that even with larger, full stories (not a periodical), I still had to consider my page count.
*          *           *
When I started writing newspaper travel articles and magazine articles, I was told I had 500, 1,000, and 1,500 words to share my information.
*          *            *
For some people, being restricted to a word, panel, or page count might seem annoying, but I always found the restrictions fun.
Being told I only had so much space to do my thing made me a better writer. When you're given a length that isn't flexible, you end up finding what matters most in a story, whether it's fiction or non-fiction.
Even more, you find out where your writing flies apart when you only have so much space.
I can get heavy with dialog in my writing — I learned that when writing comic books, a medium where dialog is king.
*            *            *
Q: How can you really annoy a comic book artist?
A: Cram every panel in a comic book with heavy dialog that will cover up their hard work!
Comic books forced me to tell a story succinctly, while considering others affected in the collaboration.
Comic books, screenplays, and articles taught me how to focus on what matters most, and then get a little self indulgent if there's any room left.
*            *            *
One of my recent favorite writers is the only person I've seen on Twitter getting incredibly short fiction right: @veryshortstory.
In 140 words or less, he does more than many writers do with 140,000 words.
*            *            *
If you're looking for a good writing challenge, limit yourself.
Think of something you want to write and give your best guess what your normal word or page count would be.
Cut it in half.
Cut that half in half.
If you're not in the mood to create something new for a challenge, take something you've already written and cut its page or word count in half. That 2,500-word short story you love so much? Tell the same story in 1,250 words.
By restricting the room to tell a big story, you have no choice but finding what matters most in that story.
Do that enough, and you will always have a strong line running through everything you write to build upon.