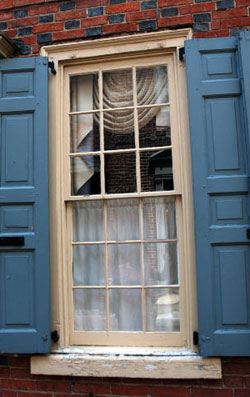 When writing, I like making things up.
While you'd be hard pressed to find any lengthy autobiographic passages in my fiction, I do love taking a small, real thing and running with it until it's nothing like what it was based on.
Here's an example:
I had a friend who never knocked on my front door when he came over — he always knocked on windows. Even if he knew I was in the living room of an old house where I once lived, he'd knock on the windows beside the front door to get my attention.
One day he came to my window saying, "Dude! I was in Southlake awhile ago, and out in this field were two Great Danes. I need your pickup truck so I can go get them!"
This small, real exchange ended up as a story not at all like what really happened. (I told my friend I was tired and wasn't leaving the house.)
This is the story. (I'm currently having issues with my main Web site — here's a PDF of the story, and here's a EPUB file of the story.)
Today's Writing Prompt
Take something tiny and blow it up into something else.
No autobiography; just running with a snippet of the real world until it no longer resembles what it's based on.
Tomorrow's Writing Prompt
How can jackhammers, barking dogs, and pizza day at work help you write a short story?
I'll tell you tomorrow…