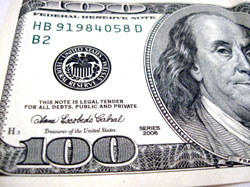 A $100,000 book advance sounds nice, doesn't it?
That sounds like enough money to quit your day job, spend a few hours writing each day, and then using the remainder of your time talking about creative things — with creative friends — over coffee or tea the rest of the day.
Right?
Wrong…
I recently read an article in the New York Times about book advances. In the article, it mentions that Dave Eggers received a $100,000 advance that put just $39,567.68 in his pocket.
If it takes several years to write and sell your own work of staggering genius, when you break that sum down over three years, it's a nice supplemental income, but not enough to support most people.
The average book advance is much less than $100,000, leaving most writers with enough money for Web hosting and supplies, maybe attending a writer's conference, and a nice, celebratory meal.
Most writers have a day job for a reason.
The trick is to find happiness and order in juggling your day job with writing regularly and enjoying life.
Odds are the $100,000 advance will never come your way.
But if you're realistic about it from the start and find a good balance along the way, you're more likely to write on a regular basis and increase your chances of finally making it.