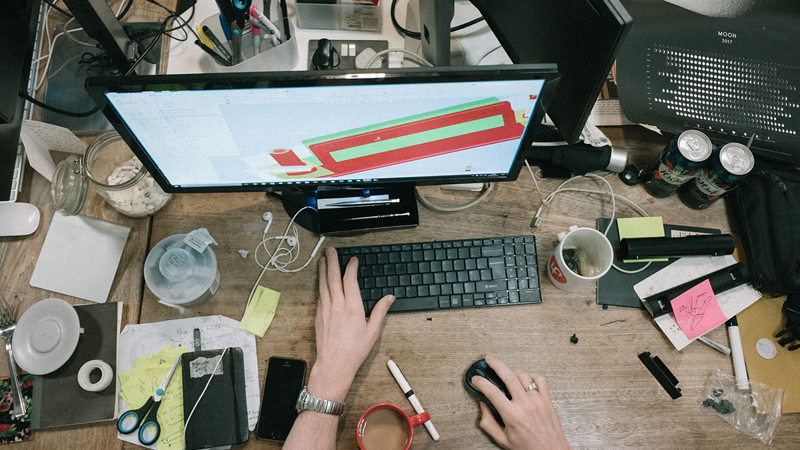 [I wrote this 10 days ago and guess I didn't set it to publish. Still holds up, so here it is…]
* * *
[The idea for this entry came from this Muddy Colors entry by Justin Gerard about his ideal art space. The gist: he has a fancy desk, but he usually does his art on a clip board he can use anywhere. (A piece of hardboard with a rubber band wrapped around the top to hold tools is all he needs.)
He has his ideal space, but…it's not-so-ideal after all.]
The Dream of Many Writers
There seems to be a dream many writers have when it comes to a place to write: a grand room with bookcases so tall, you need ladders on tracks to reach everything. A mahogany desk weighing as much as an old Buick. A fireplace rivaling that of Citizen Kane's Xanadu. (Okay, maybe not QUITE that massive, but you get the point…)
While I would not turn down that room, I'm not sure it's a space in which I'd do my best work. Ideally, I'd like enough room for a couple bookcases. Space for a couch long enough for me to stretch out and a small table for a book and mug.
A long, simple slab desk where I can spread out note cards and pages and plop down a laptop. Maybe a tiny pub table by a window because I do like standing up when jotting down notes by hand and shuffling around scenes in stories. Oh, and a closet that doubles as a recording booth where I can keep piles of paper out of sight.
This is a realistic setup in most extra bedrooms.
Is Ideal Ideal?
I've written long enough to know a simple space like the one I just described would be ideal for me. Sure, the thought of a massive desk with enough drawers to hold everything in arm's reach sounds ideal, but a file box on a shelf in a closet means a certain separation of time to work and time to rest. A slab of affordable wood on simple legs means I don't have to polish an antique desk or fear a bump or scratch. A fireplace might be nice, but it doesn't get that cold in Texas. (And it would be another thing to clean.)
Less Than Ideal
My wife an I live in a one-bedroom apartment that has a little utility room in it. The closet is where our washer and dryer are stowed, so it's not a place where I can store anything.
My desk is a small, cheap-ish thing made out of particle board with veneers covering the ugliness within. It's the only place to store podcasting gear, so I have roughly 16″ x 36″ of usable space. Factor in my keyboard and laptop, and it's more like 16″ x 20″.
There is a double door to the living room on one side, and a door to the bathroom on the other…so there is really only one usable wall. (We use it for bookcases.)
But it is here where I've recorded all episodes of Not About Lumberjacks (and written roughly half of them). It's also where most of the best novel I've written to date was done (aside from bits written in crowded, noisy cafeterias at work).
The Tradition of Less Than Ideal
If you read or listen to enough interviews with writers, you find many have written great works at kitchen tables while kids were napping; during lunch in crowded, noisy spaces — even writing entire novels on their phones during short breaks at work.
The rush of the work week means some writers don't even try writing from Monday to Friday — they dedicate large parts of their weekends to getting things done without interruption.
Hell, Anne Frank (and many others over the years) wrote while hiding from (or jailed by) monstrous humans.
Suddenly, my crowded desktop with the melodic sound of the washing machine drowning out other noises is a luxury.
Making it Work
Justin Gerard starts the last paragraph of the Muddy Colors entry I mentioned above like this:
I'm not really sure what the lesson here is. Maybe it is that we never need as much as we think we do. Maybe it is that if you are dedicated to a dream, you will find a way to make it work, whatever the circumstances.
I've known people who have talked about podcasting for over a decade…once they have the right gear. I've seen artists never produce a body of work because they are too busy refining something that feels safer (to a point of perceived perfection that never comes). And how many people have talked about beginning (or finishing) a novel when the stars align just right and they have a clear to-do list in a world where there is always something to do?
If you convince yourself you need ideal situations to write (and you are not so fortunate to have those ideal situations regularly), guess what? You're likely to not write.
I do believe the day will come when I have the ideal little space I described. But even if that day never comes, better writers than me have written under worse conditions than I have right now, so I'll make do with whatever it takes to keep writing.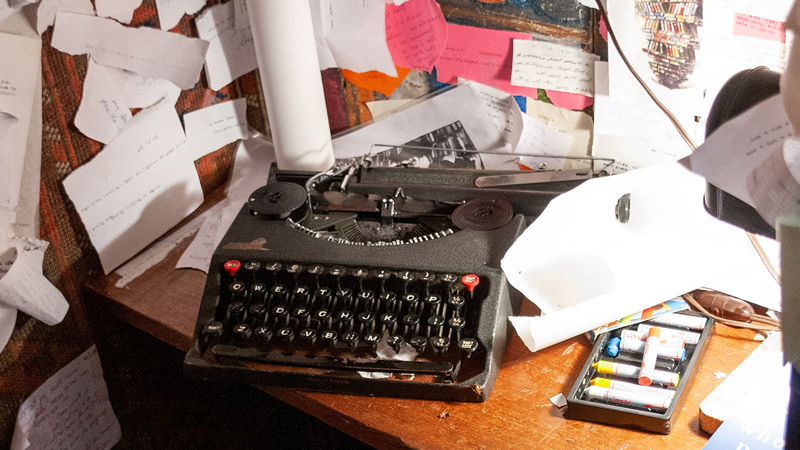 * * *
Cluttered Desk Photo: Robert Bye.
Typewriter Photo: Dimitry Anikin.