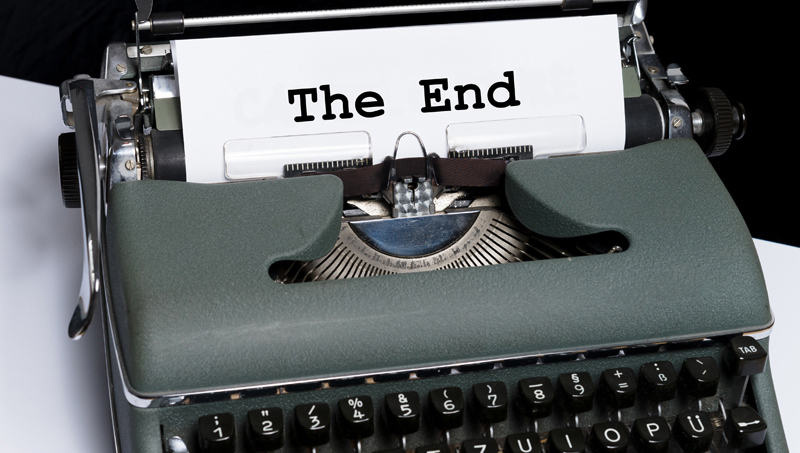 I've been on an earlier-than-usual morning schedule, getting up around 4:00 a.m. to read and write.
It doesn't hurt that with the arrival of September, North Texas has been unseasonably cool and cloudy and rainy. (By "unseasonably cool," I mean lows in the 70s and highs in the low to mid 80s…with clouds.)
Friday morning, I woke up with a strange task in mind: rewrite the ending to the current novel I'm shopping around.
The End
It became clear early on in writing this novel that there could easily be more story there. The book chronicles the first eighteen years of the life of a woman born in a circus in the 1920s — and all that follows in her efforts to become a stage magician.
I think, because I know there's more there if someone is interested in the tale, and it does well enough to merit a continuation of the story, the ending I initially wrote felt more like an ending of the first novel in a series. It wasn't a ridiculous cliff-hanger of an ending, but it was clear more would follow. And because of that, it always seemed a bit abrupt in its final paragraphs.
Stand Alone
I know that even with a series, each novel should stand alone. And this novel always did that rather well…until those last few lines.
I've thought about rewriting the ending since its initial writing, and something hit me the other day to take a look at it again. Maybe it was watching an interview with Paul Auster in which he talked about how getting one page done a day is his goal. (It's at the 4:15 – 5:11 mark in the video if you actually go check it out.) How he does what sooooooo many say to never do (but so many writers I look up to seem to day anyway): write one page and then edit that page the rest of the day.
Instead of cranking out a first draft, Auster talked about how he reworks a page after writing it. He gives himself that day — a full eight hours — and then moves on.
I wanted this current book to be entirely its own thing, a fully formed story that — if that's it — would leave a reader feeling satisfied. I told myself, "Even if I have to take my first day off at the newish job in the two months I've been there (weekends excluded), I will."
Friday Morning
Friday morning, I got up and did it. I had a night of great dreams and wanted to keep living for a bit in other places, but that's the great thing about writing: it allows just that. And by getting up early and getting straight to writing, parts of stories are made in a dream-like haze.
I did what writers I love do: I worked for hours on just a few paragraphs. I had three hours before logging in to my day job, and I finished right at 7:00 a.m.
The first thing I did this morning was finish reading a graphic novel (The Daughters of Ys if you're curious). After that, I read the ending I rewrote yesterday.
I still love it — and know I always will.
A Certain Weight
I think most of us who write know when something we do isn't what we hoped it would be. Even as the ending of the first book in a series, the ending I'd previously written did what people say to do at the end of an introductory book in a series, but it wasn't what I wanted to do.
There is a certain weight to the endings of good books. In fact, before writing yesterday, I took several novels I adore off the shelves and read the last few pages — not for any stylistic inspiration, but to feel the weight of great endings.
What I rewrote yesterday morning is what I wanted all along. (Better, in fact!) There is still an opening for more if that is what people want, but it is its own book. More than that, though, it is a better ending than I hoped for, and I finally feel satisfied in calling it done!