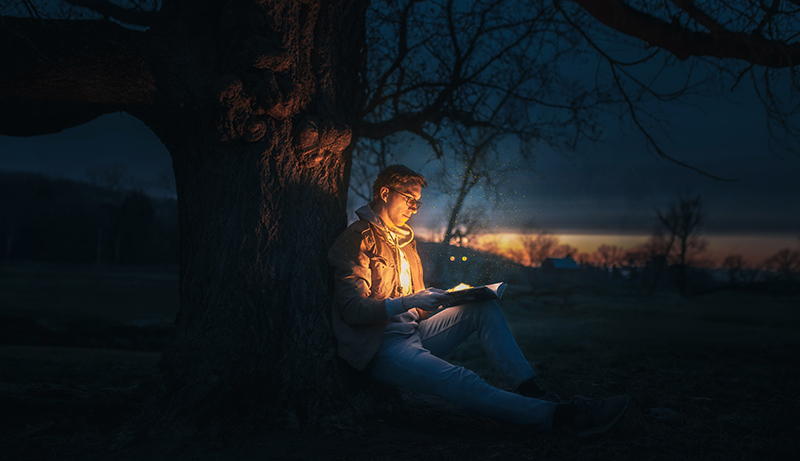 When many hear the word fantasy to describe books, they think about swords and sorcery.
And sure, there are the obvious stories: The Lord of the Rings Trilogy, A Song of Ice and Fire (the series Game of Thrones is based on), and The Chronicles of Narnia, but fantasy is also Toni Morrison's Beloved, Audrey Niffenegger's The Time Traveler's Wife, and David Mitchell's Cloud Atlas.
Fantasy is probably a book dear to you that you may not even view that way.
What is Fantasy?
Last week, The Big Book of Modern Fantasy was released. In the book's introduction, author Jeff Vandermeer describes fantasy like this:
…the defining moment of fantasy is the encounter with the not-real, no matter how slight, and what that moment signifies. Sometimes it is the entire world and sometimes it is the slight distance from reality that allows a writer to bring our reality into focus in a meaningful way.
Think about all the stories you love with some fantastic element…I bet there are many.
Fantasy and Me (Then)
As a child, there was no safer feeling than my mom reading Carl Sandburg's Rootabaga Stories to me. My favorite story was The Dollar Watch and the Five Jackrabbits, a tale about two young people given five long-legged jackrabbits with legs so powerful, they can leap over skyscrapers.
When I began reading books of my own choosing, it was Charlie and the Chocolate Factory and Charlie and the Glass Elevator. I soon discovered Ray Bradbury wrote more fantasy than science fiction. And then came The Hobbit, a book I read each year, like I also did with Bradbury's Dandelion Wine.
In fifth grade, that annual read-through of J.R.R. Tolkien's first novel was accompanied by something new: my introduction to Dungeons and Dragons.
Overnight, I became a swords and sorcery geek. In high school, I not only lived in D&D's Greyhawk — I also became lost in Terry Brooks's Shannara, Stephen R. Donaldson's "the Land," and Robert Silverberg's Majipoor.
And when TSR (the company that made Dungeons and Dragons) came out with the Lankhmar — City of Adventure guide, I found all of Fritz Leiber's Lankhmar paperbacks and devoured them.
The Year I Stopped Playing Dungeons and Dragons
The year I stopped playing Dungeons and Dragons (1989) is the year I stopped reading swords and sorcery fantasy. Friends and I went separate ways, and my new friends played other role-playing games. Their reading habits were more varied as well…even though fantasy still featured prominently.
When I finally got into college (I had to sit out for some time because I had done so poorly in high school, even our local junior college wouldn't let me in), I was introduced to Kurt Vonnegut. Much like Ray Bradbury, Kurt Vonnegut is often branded a sci-fi writer, but many of his works are fantasy.
I soon discovered literary fiction that brought in enough "not-real" elements that it was technically fantasy. (Even though many called it speculative fiction or mis-branded it as Magical Realism because, to some, "fantasy" was [and still is] a term to scoff at.)
Fantasy and Me (Now)
I love normal stories with just one or two little things that make the world magical. It might be a portal to another place, a watch that stops time, or a talking parrot claiming to be behind some of the greatest works ever written.
What if you inherited a Magic 8-Ball that never lied; what if your dead father came back as a talking dog; or maybe you're a shitty kid in a battle of life and death with Santa Claus's wicked brother on Christmas Eve?
These are all descriptions of stories on my fiction podcast, Not About Lumberjacks.
With exceptions, most fantastic stories I write are what I'd deem "serious" stories. Almost half the stories on the site are fantasy stories in some manner. But only one, "The Other Side" contains an actual fantasy world inhabited by orcs, elves, minotaurs, and other beings. (And it's still about "our" world — and one character's struggle to run from his problems…or face them.)
What Is It about Fantasy?
The fantastic appeals to me because the everyday world lacks magic. Most of my days are like this:
Wake up early and write fiction or read. (Or maybe go for a walk.)
Spend the day as a technical writer creating rather dry discussion.
A drink or two after work as I hang out with my wife.
Dinner.
Maybe a walk…maybe writing…maybe reading.
Sleep.
That's not to say the days are boring. I get to do things I love each day, and sometimes the little things encountered even at work are not without their magic.
But we're raised to dream big and believe in the majesty of life…which is not something found at most day jobs and our rush to keep things together throughout the week.
And even if you strive for a magical life, it can be hard sustaining that in a tired world that asks most of us to just slog through it all and maybe, if we're lucky, have a bit of security in the end. So the thought of the "not-real" creeping in is an exciting notion.
More than that, soooooooooo many straight-up stories have been written, which is not to say those stories are bad (I love literary fiction without fantastic elements), but there are things writers can explore once something out of the ordinary is introduced that other kinds of stories lack.
(As kids, we live in imaginary worlds, and it's worth keeping one's imagination sharp, lest you lose it and become a boring adult. Sadly, I know a lot of people lacking imaginations…)
When Your Father is a Talking Dog
The most recent short story on my fiction podcast is about someone's father coming back as a reincarnated dog. More than that, the dog can talk!
Sure, I could have had an estranged father and son come together and work things out. As many times as we've seen that, I'm not going to say it can't be done in a manner that seems new. (Not that I believe all stories must seem fresh, new, or some other sparkly thing.)
But there was so much more I could say with a story about a reincarnated father who also happens to be a crass Boston terrier.
In another story, "Standstill," I was able to not only explore a couple nearing the end of their time together because one is sick and dying, but…what would happen if they were given the chance to be together forever?
A different story asks what would life be like if you had all the answers? Or what if you were hired as a writer's assistant and met a parrot who claimed to have lived hundreds of years and was behind some of the greatest English works ever written?
The "not-real" brings something to all those stories they would lack without that element of fantasy.
The fantastic is not the point, but something just different enough (or even an all-out different world) can provide challenges for protagonists they'd not otherwise encounter. (And in doing so, hopefully touch, or even change, a reader in some important way.)